Understanding Equity in Community College Practice: New Directions for Community Colleges, Number 172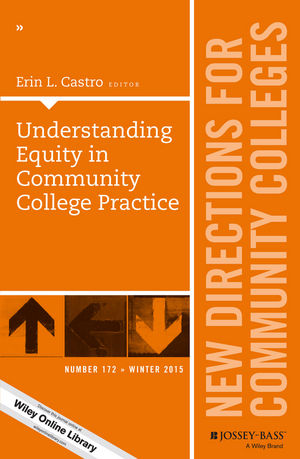 Understanding Equity in Community College Practice: New Directions for Community Colleges, Number 172
ISBN: 978-1-119-21601-8 December 2015 Jossey-Bass 120 Pages
Description
What do equity-oriented practices look like in different community college contexts? Given the increasing role of the community college in realizing equitable outcomes for students, examples of what practitioners are doing to move forward an equity agenda are urgently needed.

The diverse perspectives and issues in these chapters explicitly advance an equity
agenda and offer:
Conceptual and empirical rationales to support equity-oriented practices,
Examples of programming and practice that support the lives and livelihoods of underserved student populations, and
Examples of policy, programming, and thinking that emphasize the role of the community college in expanding educational opportunity for underserved students.
Driven by a change in thinking and imagination, these examples show how practitioners can—and should—tailor programming in light of larger patterns of inequality.
This is the 172nd volume of this Jossey-Bass quarterly report series. Essential to the professional libraries of presidents, vice presidents, deans, and other leaders in today's open-door institutions, New Directions for Community Colleges provides expert guidance in meeting the challenges of their distinctive and expanding educational mission.
Table of contents
EDITOR'S NOTES 1
Erin L. Castro
1. Addressing the Conceptual Challenges of Equity Work: A Blueprint for Getting Started 5
Erin L. Castro
This chapter provides an introduction to and description of educational equity. It outlines common traps to avoid when engaging equityoriented practices in community college contexts.
2. Why Diversity and Equity Matter: Reflections from a Community College President 15
Francisco C. Rodriguez
What roles can leaders play to create, nurture, and sustain a campus culture that supports equity? This chapter offers the candid views and suggestions of an accidental leader, who now leads one of the largest community college districts in the nation.
3. Developing Agency for Equity-Minded Change 25
Eric R. Felix, Estela Mara Bensimon, Debbie Hanson, James Gray, Libby Klingsmith
This chapter highlights the use of the Equity Scorecard, a theory-based strategy that assists community colleges in embedding equity into their institutional norms, practices, and policies, with the Community College of Aurora.
4. Pathways to Results: How Practitioners Address Student Access, Outcomes, and Equity in an Associate Degree Nursing Program 43
Jessica Pickel, Debra D. Bragg
Pathways to Results (PTR) engages practitioners in using data to close equity gaps for student groups historically underserved by postsecondary education. This chapter describes the experiences of practitioners at Richland Community College who implemented PTR to improve student access, outcomes, and equity in an associate degree nursing program.
5. Call to Action: Embracing an Inclusive LGBTQ Culture on Community College Campuses 57
Jason L. Taylor
Many community colleges are unwelcoming to LGBTQ students and this chapter provides practical suggestions to community college leaders to develop a more inclusive campus culture.
6. Do Financial Aid Policies Unintentionally Punish the Poor, and What Can We Do About It? 67
Courtney A. Campbell, Regina Deil-Amen, Cecilia Rios-Aguilar
This chapter argues that, despite intentions, the ways that federal financial aid policy is constructed and currently administered can have negative consequences for poor community college students.
7. Salt Lake Community College Veterans Services: A Model of Serving Veterans in Higher Education 77
Aaron Ahern, Michael Foster, Darlene Head
This chapter outlines the birth and growth of a veteran program in Salt Lake City, Utah, and discuses next steps in spurring additional innovations and advancements in better serving student veterans in community colleges.
8. Undocumented Students at the Community College: Creating Institutional Capacity 87
J´essica I. Valenzuela, William Perez, Iliana Perez, Gloria Itzel Montiel, Gabriel Chaparro
This chapter introduces Institutional Undocu-Competence (IUC), an institutional capacity framework emerging from a critical analysis of cultural competence, aimed to inform community colleges' efforts to better support the growing undocumented student population.
9. Black Men Attending Community Colleges: Examining an Institutional Approach Toward Equity 97
Lorenzo Baber, Randy Fletcher, Edmund Graham
This chapter outlines an institutional approach for improving conditions for Black men on campus through an illustrative example of the Together We Achieve program at Parkland College in Illinois.
INDEX 109