Understanding Faculty Productivity: Standards and Benchmarks for Colleges and Universities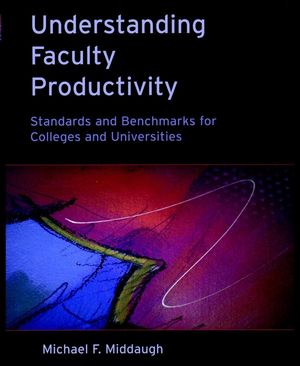 Understanding Faculty Productivity: Standards and Benchmarks for Colleges and Universities
ISBN: 978-0-787-95022-4 December 2000 Jossey-Bass 256 Pages
Description
"An invaluable resource for any college and university striving tomeet the National Cost Commission's call to make what colleges doand what it costs more 'transparent' to the public."
--Jacqueline E. King, director, federal policy analysis, AmericanCouncil on Education

Defining and measuring faculty productivity are among the mostcentral issues for quality and accountability in higher education.Known for assembling some of the most authoritative research onfaculty productivity--and for analyzing its impact on academic andinstitutional accountability--Michael F. Middaugh presents thiscomprehensive volume to help campus professionals build greateraccountability for students, parents, foundations, governmentalorganizations, and other concerned constituents. Middaugh firstdraws from a research study funded by TIAA-CREF's CooperativeResearch Grant Program and the Fund for Postsecondary Educationwithin the U.S. Department of Education. He then provides a newframework for analyzing faculty efficiency and emphasizes how theresults of faculty work can become the best indicators ofproductivity. He also applies the joint study findings to the taskof developing benchmarks for faculty productivity. Practitionersfrom any type of campus will find a rich array of data, valuablerecommendations, and relevant examples.
Table of contents
Preface xv
The Author xxi
1 Defining Faculty Productivity 1
2 Responding to Public Pressure for Systematic Accountability 25
3 A Quantitative Perspective on Productivity and Accountability 53
4 Measuring Productivity: What About Quality? 80
5 Laying the Groundwork for Dependable Productivity Benchmarks 91
6 Using Quantitative Benchmarking Data 124
7 Establishing Qualitative Benchmarks in Individual Departments 149
8 Looking to the Future 157
Appendix A: Delaware Study Definitions and Conventions 165
Appendix B: Delaware Study Benchmarks for Typical Academic Departments 175
Appendix C: Participants in the Delaware Study 216
References 225
Supplementary Readings 227
Index 229