Understanding Intracardiac EGMs and ECGs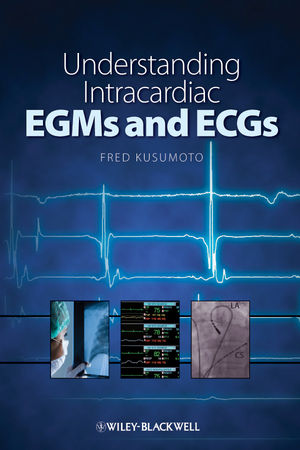 Understanding Intracardiac EGMs and ECGs
ISBN: 978-1-444-36069-1
Aug 2011, Wiley-Blackwell
232 pages
Description
Although the electrocardiogram (ECG) is accepted as a standard clinical tool, electrograms (EGMs) recorded during electrophysiology studies are considered complex and confusing. In this brief paperback, an award-winning teacher provides the newcomer with an introductory guide to electrophysiology studies and the interpretation of electrograms.
Dr. Kusumoto divides the 15 chapters into two main sections, Electrophysiology Concepts and Specific Arrhythmias. First, he reviews the basics of electrophysiology testing and the diagnostic evaluation of general types of arrhythmias. From that foundation, he proceeds to discuss specific arrhythmia types and techniques for evaluation and ablation:
• Accessory pathways
• AV node reentry
• Focal atrial tachycardia
• Atrial flutter
• Atrial fibrillation
• Ventricular tachycardia


The final chapter considers implantable cardiac devices as they relate to ECGs and electrograms. Each short chapter includes a bullet-point summary and helpful review questions. Plentiful ECG and EGM tracings illustrate the text. Cardiology and electrophysiology fellows, allied professionals working in the electrophysiology laboratory, and all professionals interested in beginning a study of heart rhythms and electrophysiology will want to keep Understanding Intracardiac EGMs and ECGs close at hand for frequent reference.

Titles of Related Interest
Taylor, 150 Practice ECGs: Interpretation and Review, 3rd Edition
ISBN: 978-1-4051-0483-8
Fogoros, Antiarrhythmic Drugs: A Practical Guide, 2nd Edition
ISBN: 978-1-4051-6351-4
Stouffer, Practical ECG Interpretation: Clues to Heart Disease in Young Adults
ISBN: 978-1-4051-7928-7
Abedin, ECG Interpretation: The Self-Assessment Approach, 2nd Edition
ISBN: 978-1-4051-6749-9
Preface, vii
Part 1 Electrophysiology Concepts.
1 Procedural issues for electrophysiologic studies: vascular access, cardiac chamber access, and catheters, 3
2 Fluoroscopic anatomy and electrophysiologic recording in the heart, 15
3 Programmed stimulation, 29
4 Bradycardia, 51
5 Supraventricular tachycardia, 60
6 Wide complex tachycardia, 86
7 New technology, 94
8 Power sources for ablation, 99
Part 2 Specific Arrhythmias.
9 Accessory pathways, 107
10 AV node reentry, 132
11 Focal atrial tachycardia, 148
12 Atrial flutter, 161
13 Atrial fibrillation, 182
14 Ventricular tachycardia, 189
15 Implantable cardiac devices: ECGs and electrograms, 211
Index, 220