Understanding Mother-Adolescent Conflict Discussions: Concurrent and Across-Time Prediction from Youths' Dispositions andParenting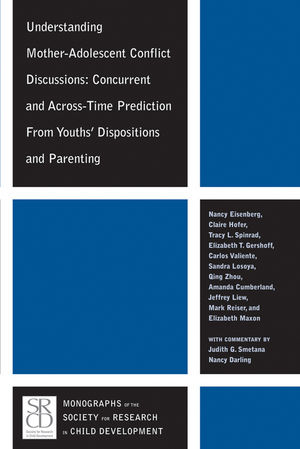 Understanding Mother-Adolescent Conflict Discussions: Concurrent and Across-Time Prediction from Youths' Dispositions andParenting
ISBN: 978-1-444-30726-9
Apr 2009, Wiley-Blackwell
300 pages
Description
Adolescence is often thought of as a period during which parent–child interactions can be relatively stressed and conflictual. There are individual differences in this regard, however, with only a modest percent of youth experiencing extremely conflictual relationships with their parents. Relatively little empirical research, however, addresses individual differences in the quality of parent–adolescent interactions concerning potentially conflictual issues. The research reported in this monograph examined dispositional and parenting predictors of the quality of parents' and their adolescent children's emotional displays and positive and negative verbalizations when dealing with conflictual issues. Of particular interest were patterns of continuity and discontinuity in the factors related to conflicts. A multimethod, multireporter (mother, teacher, and sometimes adolescent reports) longitudinal approach(over 4 years) was used to assess adolescents' dispositional characteristics (control/regulation, resiliency, and negative emotionality), youths' externalizing problems, and parenting variables (warmth, positive expressivity, discussion of emotion, positive and negative family expressivity). Parentadolescent conflicts appear to be influenced by both child characteristics and quality of prior and concurrent parenting, and child effects may be more evident than parent effects in this pattern of relations.
ABSTRACT.
I. INTRODUCTION AND CONCEPTUAL FRAMEWORK.
II. SAMPLE AND MEASURES.
III. DESCRIPTIVE ANALYSES AND CORRELATIONS.
IV. GROWTH CURVES, PREDICTION OF CONFLICT REACTIONS FROM GROWTH CURVES, AND TESTS OF MEDIATED RELATIONS.
V. SUMMARY AND DISCUSSION.
REFERENCES.
COMMENTARY.
CONFLICTING VIEWS OF CONFLICT (Judith G. Smetana).
PUTTING CONFLICT IN CONTEXT (Nancy Darling).
CONTRIBUTORS.
STATEMENT OF EDITORIAL POLICY.