Understanding Motivation and Emotion, 6th Edition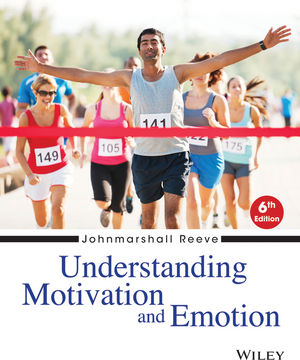 Understanding Motivation and Emotion, 6th Edition
ISBN: 978-1-118-51779-6 November 2014 648 Pages
Description
Understanding Motivation and Emotion, 6th Edition helps readers understand motivation; where it comes from, how and why it changes over time, and how motivation can be increased. The book also shows how to apply the principles of motivation in applied settings, such as in schools, in the workplace, on the athletic field, in counseling, and in one's own personal life.
Reeve's engaging writing captures the excitement of recent advances in the field to show the reader what contemporary motivation psychologists are excited about. He also uses effective examples and explains how motivation study can be applied to readers' daily lives.
By combining a strong theoretical foundation with current research and practical applications, Reeve provides readers with a valuable tool for understanding why people do what they do and why people feel what they feel.   
Preface iii
Chapter 1 Introduction 1
Chapter 2 Motivation in Historical Perspective 28
Chapter 3 The Motivated and Emotional Brain 51
Part I Needs 81
Chapter 4 Physiological Needs 83
Chapter 5 Extrinsic Motivation 116
Chapter 6 Psychological Needs 152
Chapter 7 Implicit Motives 183
Part II Cognitions 211
Chapter 8 Goal Setting and Goal Striving 213
Chapter 9 Mindsets 239
Chapter 10 Personal Control Beliefs 268
Chapter 11 The Self and Its Strivings 303
Part III Emotions 335
Chapter 12 Nature of Emotion: Six Perennial Questions 337
Chapter 13 Aspects of Emotion 369
Chapter 14 Individual Emotions 404
Part IV Applied Concerns 429
Chapter 15 Growth Motivation and Positive Psychology 431
Chapter 16 Unconscious Motivation 466
Chapter 17 Interventions 496
References 515
Author Index 603
Subject Index 619
Following the recent explosion of interest in motivation and emotion, the 6th Edition features three new chapters: Individual Emotions, Mindsets, and Interventions.
The 6th Edition gives greater prominence to the neuroscience of motivation and emotion, self-control and ego depletion, emotion regulation, the adaptive unconscious, and goal setting and goal disengagement.
The 6th Edition also makes a deliberate effort to identify practical applications.
Each chapter features a chapter box that addresses a specific concern. 
At the end of each chapter, a set of 10 recommended readings appears.  These recommended journal articles represent suggestions for further individual study. 
Up-to-date coverage

Clear and concise writing style: Compared to other texts, this book better interprets and translates the research in motivation to ways that are easy to understand.
Practical and applied perspective on motivation study: Almost every chapter walks the reader through a how-to application, showing students how to motivate themselves and others.