Understanding Peacekeeping, 2nd Edition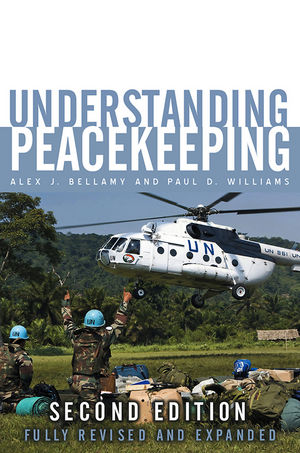 Understanding Peacekeeping, 2nd Edition
ISBN: 978-0-745-64186-7 March 2010 Polity 376 Pages
Download Product Flyer
Download Product Flyer
Download Product Flyer is to download PDF in new tab. This is a dummy description. Download Product Flyer is to download PDF in new tab. This is a dummy description. Download Product Flyer is to download PDF in new tab. This is a dummy description. Download Product Flyer is to download PDF in new tab. This is a dummy description.
Description
Peace operations are now a principal tool for managing armed conflict and building world peace. The fully revised, expanded and updated second edition of
Understanding Peacekeeping
provides a comprehensive and up-to-date introduction to the theory, practice and politics of contemporary peace operations.
Drawing on more than twenty-five historical and contemporary case studies, this book evaluates the changing characteristics of the contemporary environment in which peacekeepers operate, what role peace operations play in wider processes of global politics, the growing impact of non-state actors, and the major challenges facing today's peacekeepers. All the chapters have been revised and expanded and eight new chapters have been added.
Part 1 summarizes the central concepts and issues related to peace operations. It includes a new discussion of the theories of peace operations and analysis of the emerging responsibility to protect norm. Part 2 charts the historical development of peacekeeping from 1945 and includes a new chapter on peace operations in the 21st century. In Part 3, separate chapters analyze seven different types of peace operations: preventive deployments; traditional peacekeeping; assisting transition; transitional administrations; wider peacekeeping; peace enforcement; and peace support operations. Part 4 looks forward and examines the central challenges facing today's peacekeepers, namely, globalization, the regionalization of peace operations, the privatization of security, civilian protection, policing and gender issues.
The second edition of Understanding Peacekeeping will be essential reading for students and scholars of peace and conflict studies, security studies, and international relations.
Table of contents
List of Figures
List of Maps
List of Boxes
List of Tables
Acknowledgements
List of Abbreviations
Guide to companion website
Introduction

Part 1: Concepts and Issues
1 Peace Operations in Global Politics
2 Who are the Peacekeepers?

Part 2: Historical Development
3 The Early Peacekeepers
4 Peace Operations During the 1990s
5 Peace Operations in the Twenty-First Century

Part 3: Types of Peace Operations
6 Preventive Deployments
7 Traditional Peacekeeping
8 Wider Peacekeeping
9 Peace Enforcement
10 Assisting Transitions
11 Transitional Administrations
12 Peace Support Operations

Part 4: Contemporary Challenges
13 Regionalization
14 Privatization
15 Protection of Civilians
16 Gender
17 Policing

Conclusion/ Bibliography/ Index
Reviews
"Will no doubt become as indispensable to the comprehension of contemporary peace operations as the first edition has become."
International Peacekeeping


"The issues and discussions raised in this book are vital for anyone with a desire to understand peacekeeping operations. It offers a genuine insight into the ongoing theoretical discourse of preventing armed conflict and securing sustainable peace."
British Journal of Community Justice
"The first edition was a real gem, strong on the each of conceptual, theoretical, and case study dimensions. If anything, this new edition is even better. New chapters on gender and privatization, among others, ensure that the book remains cutting edge."
Paul F. Diehl, University of Illinois
"The second edition of Understanding Peacekeeping is a superior book and builds on the earlier pattern of solid analysis and insights as well as readability."
Thomas G. Weiss, City University of New York Graduate Center
"The United Nations Charter promised to save succeeding generations from the scourge of war. It offered half a solution by outlawing war, but did not even mention the word "peacekeeping". This thorough and accessible book shows how peacekeeping has come to define modern efforts to resolve conflict, and the promise and the pitfalls that it offers."
Simon Chesterman, New York University School of Law and the National University of Singapore
"This is an essential book both for practitioners and for students of international relations, security studies and peace studies with an interest in peace operations Ð that litmus test for the existence of a genuine post cold war international community. A thoroughly updated version of the authors' highly regarded first edition, the book offers comprehensive coverage, lucid critical analysis of both theory and practice, detailed case studies, and a clear and accessible prose style. The overall positive conclusion is heartening."
Oliver Ramsbotham, Emeritus University of Bradford
"A thorough, comprehensive and accessible account of contemporary peacekeeping which provides a clear guide to the theoretical and ethical issues involved, as well as a fine overview of the history, politics and objectives of multilateral intervention."
Norrie MacQueen, University of Dundee
Features
New edition of Paul Williams and Alex Bellamy's widely respected textbook
Provides a comprehensive and up-to-date introduction to the theory, practice and politics of contemporary peace operations
Includes thoroughly revised content, covering eight new chapters and 25 updated case studies
Packed with student friendly features, including maps, tables and figures and helpful text boxes
Accompanied by a student website which includes resources such as PK links; additional case studies;news updates; and chronologies of PK missions world-wide
Essential reading for students and scholars of peace and conflict studies, security studies, and international relations