Understanding People in Context: The Ecological Perspective in Counseling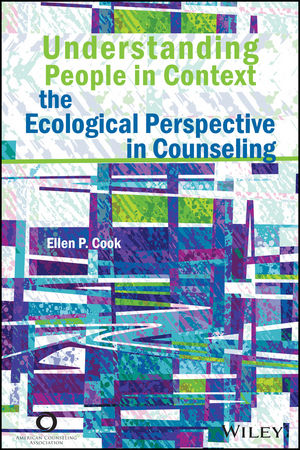 Understanding People in Context: The Ecological Perspective in Counseling
ISBN: 978-1-119-22274-3
Sep 2015
317 pages
Description
This exceptional book emphasizes uniquely designed interventions for individual counseling, group work, and community counseling that consider clients as individuals within the contexts of families, cultural groups, workplaces, and communities. Part I describes the theoretical research base and major tenets of the ecological perspective and its applications to counseling practice. In Part II, experts who have used the ecological perspective in their work discuss its usefulness in various applications, including counseling diverse clients with specific life challenges; assessment, diagnosis, and treatment planning; and in schools, substance abuse programs, faith-based communities, and counselor training programs.



*Requests for digital versions from the ACA can be found on wiley.com.
*To request print copies, please visit the ACA website here.
*Reproduction requests for material from books published by ACA should be directed to permissions@counseling.org.


Acknowledgments vii
About the Editor ix
About the Contributors xi
Part I Understanding the Ecological Perspective
1 Introduction 3
Ellen P. Cook
2 Behavior Is Personal 11
Ellen P. Cook
3 Behavior Is Contextual 37
Ellen P. Cook
4 Behavior Is Interactional 67
Ellen P. Cook
5 Behavior Is Meaningful 99
Ellen P. Cook
6 Behavior Is Changeable 129
Ellen P. Cook and Susannah C. Coaston
Part II Applying the Ecological Perspective
7 Diversity From the Ecological Perspective 161
Mei Tang and Huma Bashir
8 Assessment, Diagnosis, and Treatment Planning From the Ecological Perspective 179
F. Robert Wilson
9 School Counseling 207
Jeri Crowell, Kerry E. Sebera, and Susannah C. Coaston
10 Counseling in Context: Chemical Dependency and Substance Abuse Programs 229
Albert L. Watson, Nzingha Dalila, Jill Gomez, Greta Hochstetler Mayer, Steven W. Patrick, and Michael D. Brubaker
11 Working With Faith-Based Communities in Ecological Counseling 259
Joseph A. Stewart-Sicking and Wairimu Wanjau Mutai
12 Counseling in Context: Counselor Training 279
Michelle Flaum Hall and Geoffrey G. Yager
Afterword 297
Ellen P. Cook
Index 303