Understanding Prescription Drugs For Canadians For Dummies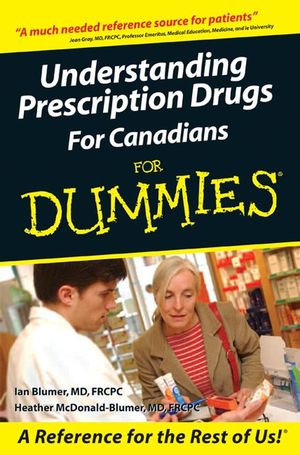 Understanding Prescription Drugs For Canadians For Dummies
ISBN: 978-0-470-67704-9 June 2010 520 Pages
Description
The ultimate Canadian guide to prescription medication

Over half of all Canadians take at least one prescription drug, but most of us know very little about the medication we're taking, including why we've been prescribed anything in the first place. Understanding Prescription Drugs Canadians For Dummies will answer many of the questions Canadians have about prescription drugs, but were afraid ask our doctors and pharmacists. Topics covered include:
* What a prescription drug is
* Common concerns
* Side effects
* Ailments and drugs used to treat them
* Prescribing practices
Understanding Prescription Drugs For Canadians For Dummies will go beyond the encyclopedic and often overwhelming information offered in massive pill books on the Web. It will empower readers, providing them with the knowledge they need as responsible consumers.
Part I: Understanding Prescription Drugs.
Chapter 1. Dummies Chapter One.
Chapter 2. What is a Prescription Drug?
Chapter 3. How Prescription Drugs Work.
Part II: From the Lab to You.
Chapter 4. Creating, Regulating, and Marketing Medicine.
Chapter 5. Understanding the Cost of Prescription Drugs.
Chapter 6. Your Doctor, Your Pharmacist, and You.
Chapter 7. Drug Interactions and Side Effects.
Chapter 8. Prescription Drugs and Moms-to-be, Kids, and Grandparents.
Chapter 9. Dealing with Emergencies.
Part IV: Preserving & Enhancing Life: Prescription Drugs for Three of Canada's Top Diseases.
Chapter 10. Getting to the Heart of Cardiovascular Disease.
Chapter 11. Dealing with Diabetes.
Chapter 12. Treating Cancer.
Part V: Medications for All Occasions.
Chapter 13. Treatment That's in Your Face: Treating Diseases of the Eyes, Ears, Nose and Throat.
Chapter 14. The Brain and Beyond: Treating Psychiatric and Neurologic Diseases.
Chapter 15. Helping You Breathe Easy: Treating Lung Disease.
Chapter 16. Keeping the Joint Hopping: Treating Arthritis.
Chapter 17. Belching, Bloating and Bowel Movements: Treating Diseases of the Esophagus, Stomach and Colon.
Chapter 18. Keeping the Waters Flowing: Treating Disorders of Kidney and Bladder Function.
Chapter 19. Not So Swell: Treating Infections.
Chapter 20. Sex, Drugs and Rock 'n Roll: Treating Sexual Dysfunction and Endocrine Diseases.
Chapter 21. Allergies and Analgesics: Treating Allergic Disorders and Pain.
Part VI: The Part of Tens.
Chapter 22. Ten Questions to Ask Your Doctor.
Chapter 23. Ten Questions to Ask Your Pharmacist.
Chapter 24. Ten Questions to Ask Yourself.
Appendix: Resources.