Understanding World Regional Geography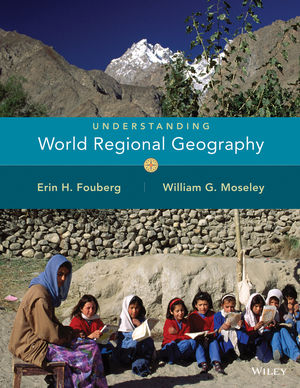 Understanding World Regional Geography
ISBN: 978-0-471-73517-5 April 2015 528 Pages
Description
Understanding World Regional Geography (UWRG) is designed to teach students to think geographically so they can continue to think and apply geographic concepts long after the course is over. UWRG draws from best practices in geography education and research in student learning to help students deepen their understanding of the world. Features found in every chapter help students learn to read cultural and physical landscapes, ask geographic questions, apply geographic concepts, and make connections. UWRG is the first introductory textbook to integrate Esri ArcGIS Online thematic maps, enabling students to engage with course material, see patterns, and answer geographic questions. UWRG integrates 25 threshold concepts, teaches students how geographers apply the concepts, and then asks students to apply these key geographic concepts themselves. Understanding World Regional Geography helps students begin to grasp the complexities of the world and gives them the content and thinking skills necessary to grow in their understanding of the world during the course and over their lifetimes.
Table of contents
Chapter 1 Introduction to World Regional Geography
Chapter 2 Global Connections
Chapter 3 Geography of Development
Chapter 4 Subsaharan Africa
Chapter 5 Southwest Asia and North Africa
Chapter 6 South Asia
Chapter 7 Southeast Asia
Chapter 8 East Asia
Chapter 9 Europe
Chapter 10 North and Central Eurasia
Chapter 11 North America
Chapter 12 Latin America and the Caribbean
Chapter 13 Pacific
Chapter 14 World Regions and World Cities
Features
WileyPLUS Learning Space is an easy way for students to learn, collaborate, and grow. With WileyPLUS Learning Space, students create a personalized study plan, assess progress along the way, and make deeper connections as they interact with the course material and each other.
Esri Dynamic Webmaps are seamlessly integrated into Understanding World Regional Geography in the WileyPLUS Learning Space platform. Clicking on an Esri webmap opens the map in ArcGIS Online, making the map dynamic and interactive. Exploring thematic maps in ArcGIS Online will transform student learning. Instead of using maps to memorize facts, students will interact with maps in the well-designed, intuitive ArcGIS Online platform. By interacting with the digital maps, students will learn to understand connections, see patterns, and appreciate context. Faculty can assign map question sets written by an expert in spatial thinking and geography education.
Threshold Concepts are integrated across all 14 chapters. Research in geography education has established that to learn to think geographically, students must apply and personalize geographic concepts. Understanding World Regional Geography features 25 threshold concepts and asks students to apply the concepts across chapters in Creative and Critical Thinking Questions. Applying and integrating threshold concepts can fundamentally change the way students view the world. Instead of asking students to memorize definitions, UWRG teaches students how geographers apply threshold concepts and then asks them to apply threshold concepts themselves.
Reading the Cultural Landscape and Reading the Physical Landscape features are included in each chapter of Understanding World Regional Geography. Using beautiful photographs and compelling maps, students are walked through the process of examining cultural and physical landscapes, identifying features, and understanding the processes that shaped the landscapes.
Using Geographic Tools provides opportunities for students to learn how geographers use tools, including GIS, statistics, landscape analysis, surveys, fieldwork, historic maps, and mental maps, to study a particular place or specific issue. Each Using Geographic Tools feature includes a figure to demonstrate the tool and Thinking Geographically questions to encourage students to think critically about knowledge gained by using the tool.