Understanding and Modulating Aging, Volume 1067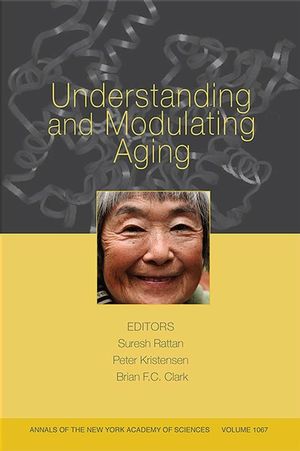 Understanding and Modulating Aging, Volume 1067
ISBN: 978-1-573-31599-9 July 2006 Wiley-Blackwell 528 Pages
Description
For the last 40 years, biogerontology—the study of the biological basis of aging—has progressed tremendously, and it has now become an independent and respected field of study and research. This volume brings together contributions by biogerontologists, bioethicists, biodemographers, researchers, students, clinicians, and dieticians.


The main areas of discussion and presentation of new research results include (1) biological and non-biological factors affecting lifespan and the quality of life; (2) ethical and social issues related to lifespan and health-span extension; (3) physiological, cellular, and molecular aspects of aging; (4) new technologies to understand and modulate aging; (5) the latest successful approaches in the prevention and treatment of age-related diseases, and (6) aging intervention, prevention, and modulation by genes, natural and synthetic molecules, and lifestyle modifications.


Accordingly, the main sections of the volume focus on the following topics: defining aging, longevity, and the diseases of aging; selected aging organs; cellular aging; molecular aging; ethics of aging intervention; genetics of aging and longevity; and aging interventions.

NOTE: Annals volumes are available for sale as individual books or as a journal. For information on institutional journal subscriptions, please visit www.blackwellpublishing.com/nyas.

ACADEMY MEMBERS: Please contact the New York Academy of Sciences directly to place your order (www.nyas.org). Members of the New York Academy of Science receive full-text access to the Annals online and discounts on print volumes. Please visit http://www.nyas.org/MemberCenter/Join.aspx for more information about becoming a member.
Introduction: Suresh I.S. Rattan, Peter Kristensen, Brian F.C. Clark.
1. Aging is No Longer an Unsolved Problem in Biology. Robin Holliday.
2. Free Radical theory of Aging: an Update, and increasing the Functional Life Span. Denham Harman.
3. The Free Radical Phantasm: A Panoply of Paradoxes. Randolph M. Howes.
4. Catabolic insufficiency and Aging. Alexei Terman.
5. Methionine Sulfoxide Reductases: Relevance to Aging and Protection Against Oxidative Stress. Filipe Cabreiro, Cédric R. Picot, Bertrand Friguet, Isabelle Petropoulos.
6. Inadequate Intensity of Various Components of Total Environmental Signals Can Lead to Natural Aging. Alexander V. Khalyavkin, anatoli I Yashin.
7. Cellular Redox Regulation and Pro-Oxidant Signalling Systems: A New Perspective on the Free Radical theory of Aging. anthony W. Linnane, Hayden Eastwood.
8. Human Immunosenescence: Does it Have an infectious Component?. G. Pawelec, S. Koch, C. Franceschi, A. Wikby.
9. Aging in Mouse and Human Systems: a Comparative Study. Lloyd Demetrius.
10. Extrapolaholics anonymous: Why Demographers' Rejections of A Huge Rise in Cohort Life Expectancy This Century Are Overconfident. Aubrey D.N.J. De Grey.
11. The Value of Life and the Value of Life Extension. Steven Horrobin.
12. Oxphos Supercomplexes: Respiration and Lifespan Control in the Aging Model. Podospora anserina Frank Krause, Christian Q. Scheckhuber, Alexandra Werner, Sascha Rexroth, Nicole H. Reifschneider, Norbert A. Dencher, Heinz D. Osiewacz.
13. Unraveling Age-Dependent Variation of the Mitochondrial Proteome. Norbert A. Dencher, Sataro Goto, Nicole H. Reifschneider, Michiru Sugawa, Frank Krause.
14. Stress and Ageing in Caenorhabditis Elegans. anders Olsen, Maithili C. Vantipalli, Gordon J. Lithgow.
15. Age-Dependent Decrease in Renal Glucocorticoid Receptor Function is Reversed by Dietary Restriction in Mice. Ramesh Sharma, Debipreeta Dutta.
16. Investigation of Differentially Expressed Genes in the Ventricular Myocardium of Senescent Rats. Akira Ishihata, Yumi Katano.
17. Naive T Cells in the Elderly – Are they Still there?. Gerald Pfister, Daniela Weiskopf, Lutfan Lazuardi, Rania D. Kovaiou, Beatrix Grubeck-Loebenstein.
18. Brain Lipopigment Accumulation in Normal and Pathological Aging. Dan Riga, Sorin Riga, Florin Halalau, Francisc Schneider.
19. Aging and Orchidectomy Modulate Expression of Vegf Receptors (Flt-1 and Flk-1) on Corpus Cavernosum of the Rat. Delminda Neves, Janete Santos, Nuno Tomada, Henrique Almeida.
20. Role of angiotensin Ii and Endothelin-1 Receptors in the Aging-Related Functional Changes in Rat Cardiovascular System. Akira Ishihata, Yumi Katano.
21. Mitochondria Damage Checkpoint, Aging and Cancer. Keshav K. Singh.
22. Free Radical Production by Aminoguanidine Damages DNA. George Suji, S Sivakami.
23. Effect of Lipid Restriction on Mitochondrial Free Radical Production and Oxidative DNA Damage. Alberto Sanz, Pilar Caro, Jose Gomez Sanchez, Gustavo Barja.
24. Increased Production of H2O2 As Premature Senescence Establishes in Human Fibroblasts After a Short Sublethal Exposure to H2O2. Stephanie Zdanov, Jose Remacle, Olivier Toussaint.
25. Carf Regulates P19arf-P53-P21waf1 Senescence Pathway by Multiple Check-Points. Sunil C. Kaul, Kamrul Hasan, Renu Wadhwa.
26. Structural and Functional Differences Between Mouse Mot-1 and Mot-2 Proteins That Differ in Two Amino Acids. Custer C. Deocaris, Kazuhiko Yamasaki, Kazunari Taira, Sunil C. Kaul, Renu Wadhwa.
27. Proteasomal Oscillation During Mild Heat Shock in Aging Human Skin Fibroblasts. David Christian Kraft, Custer C. Deocaris, Suresh I.S. Rattan.
28. Apoptosis and Necrosis in Senescent Human Fibroblasts. Susumu Ohshima.
29. Aging of Murine Mesenchymal Stem Cells. Christine Fehrer, Gerhard Laschober, Günter Lepperdinger.
30. Prevention of Accelerated Cell Ageing in Werner Syndrome. Terence Davis, Michèle F. Haughton, Christopher J. Jones, David Kipling.
31. Oxidative Stress induces intralysosomal Accumulation of Alzheimer Amyloid ƒ-Protein in Cultured Neuroblastoma Cells. Lin Zheng, Karin Roberg, Fredrik Jerhammar, Jan Marcusson, Alexei Terman.
32. The Genetics of Human Longevity. Miriam Capri, Stefano Salvioli, Federica Sevini, Silvana Valensin, Laura Celani, Daniela Monti, Graham Pawelec, Giovanna De Benedictis, Claudio Franceschi.
33. Search for Genetic Factors Associated with Susceptibility to Multiple Sclerosis. Giusi Irma forte, Paolo Ragonese, Giuseppe Salemi, Letizia Scola, Giuseppina Candore, Marco D'amelio, antonio Crivello, Norma Di Benedetto, Domenico Nuzzo, antonio Giacalone, Domenico Lio, Calogero Caruso.
34. Opposite Role of Pro-inflammatory Alleles in Acute Myocardial infarction and Longevity: Results of Studies Performed in the Sicilian Population. Giuseppina Candore, Carmela Rita Balistreri, Maria Paola Grimaldi, Florinda Listì, Sonya Vasto, Marco Caruso, Gregorio Caimi, Enrico Hoffmann, Giuseppina Colonna-Romano, Domenico Lio, Giuseppe Paolisso, Claudio Franceschi, Calogero Caruso.
35. Association Between +1059g/C Crp Polymorphism and Acute Myocardial infarction in a Cohort of Patients From Sicily: A Pilot Study. Carmela Rita Balistreri, Sonya Vasto, Florinda Listì, Grimaldi Maria Paola, Domenico Lio, Giuseppina Colonna-Romano, Marco Caruso, Gregorio Caimi, Enrico Hoffmann, Calogero Caruso, Giuseppina Candore.
36. Inflammation, Longevity and Cardiovascular Diseases: Role of Polymorphisms of Tlr4. Giuseppina Candore, Alessandra Aquino, Carmela Rita Balistreri, Matteo Bulati, Daniele Di Carlo, Maria Paola Grimaldi, Florinda Listì, Valentina Orlando, Sonya Vasto, Marco Caruso, Giuseppina Colonna-Romano, Domenico Lio, Calogero Caruso.
37. Frequency of Polymorphisms of Signal Peptide of Tgf-Â1 and –1082g/A Snp At the Promoter Region of Il-10 Gene in a Group of Patients with Carotid Stenosis. antonio Crivello, antonio Giacalone, Letizia Scola, Giusi Irma forte, Domenico Nuzzo, Robertina Giacconi, Catia Cipriano, Giuseppina Candore, Eugenio Mocchegiani, Giuseppina Colonna Romano, Domenico Lio, Calogero Caruso.
38. Reduced Expression Levels of the Senescence Biomarker Clusterin/Apolipoprotein J in Lymphocytes from Healthy Centenarians. Ioannis P. Trougakos, Chariklia Petropoulou, Claudio Franceschi, Efstathios S. Gonos.
39. Heat Shock Protein 70 Genes and Human Longevity. A View From Denmark. Ripudaman Singh, Steen Kølvraa, Peter Bross, Kaare Christensen, Niels Gregersen, Qihua Tan, Uffe Birk Jensen, Hans Eiberg, Suresh I. S. Rattan.
40. Possible Associations Between Successful Ageing and Polymorphic Markers in Werner Gene Region Mari Sild, Cemile Koca, Mette H. Bendixen, Henrik Frederiksen, Matt Mcgue, Steen Kølvraa, Kaare Christensen, Bjørn Nexø.
41. The Pattern of Chromosome-Specific Variations in Telomere Length in Humans Show Signs of Heritability and is Maintained Through Life. J. Graakjaer, J.A. Londono-Vallejo, K. Christensen, Steen Kølvraa.
42. Identification of Genes involved in Healthy Aging and Longevity. Jens Weibel, Morten Dræby, Peter Kristensen.
43. Prevention and Treatment of Skin Aging. Jerry L. Mccullough, Kristen M. Kelly.
44. Kinetin-induced Differentiation of Normal Human Keratinocytes Undergoing Aging in vitro. Ulrich Berge, Peter Kristensen, Suresh I.S. Rattan.
45. Epidermal and Dermal Characteristics in Skin Equivalent After Systemic and Topical Application of Skin Care ingredients: Jana Vicanova, Charbel Bouez, Sophie Lacroix, Lars Lindmark, Odile Damour.
46. Map Kinases and Heat Shock-induced Hormesis in Human Fibroblasts During Serial Passaging in vitro. Elise R. Nielsen, Yvonne E.G. Eskildsen-Helmond, Suresh I.S. Rattan.
47. The Roles of Satellite Cells and Hematopoietic Stem Cells in Impaired Regeneration of Skeletal Muscle in Old Rats. Shuichi Machida, Mitsuo Narusawa.
48. Age-Related Effects of Dexamethasone Administration in Adrenal Zona Reticularis. Henrique Almeida, Liliana Matos, Jorge Ferreira, Delminda Neves.
49. Does Chronic Glycolysis Accelerate Ageing? Could this Explain how Dietary Restriction Works?. Alan R. Hipkiss.
50. Would Carnosine or a Carnivorous Diet Help Suppress Ageing and Associated Pathologies?. Alan R. Hipkiss.
51. The Necessity of Having a Proper Dose of (-)Deprenyl (D) to Prolong the Life Spans of Rats Explains Discrepancies Among Different Studies in the Past. Kenichi Kitani, Setsuko Kanai, Kyoko Miyasaka, Maria Cristina Carrillo, Gwen O. Ivy.
52. The Processing, Lysis and Elimination of Brain Lipopigments in Rejuvenation therapies Sorin Riga, Dan Riga, Francisc Schneider, Florin Halalau.
53. Effect of Dietary Restriction on Learning and Memory Impairments and Histological Alterations of Brainstem in Senescence-Accelerated Mouse (Sam) P8 Strain Ryoya Takahashi, Yukari Komiya, Sataro Goto.
54. Curcumin's Biphasic Hormetic Response on Proteasome Activity and Heat Shock Protein Synthesis in Human Keratinocytes. Rehab E. Ali, Suresh I.S. Rattan.
55. Nutraceutical Supplementation: Effect of a Fermented Papaya Preparation on Redox Status and DNA Damage in Healthy Elderly individuals and Relationship with Gstm1 Genotype. A Randomized, Placebo-Controlled, Cross-Over Study Francesco Marotta, M Weksler, Y Naito, C Yoshida, M Yoshioka, P Marandola.
56. Redox Status Impairment in Liver and Kidney of Prematurely-Senescent Mice: Effectiveness of Dts Phytotherapeutic Compound. Francesco Marotta, M Harada, Sk ono-Nita, E Minelli, P Marandola.
57. A Dietary Supplement Improves an Experimental influenza-Model in Old Mice Francesco Marotta, J Cervi, C Bater, K Masulair, E Minelli, M Harada, P Marandola.
58. Pre-incubation with the Proteasome inhibitor Mg132 Enhances Proteasome Activity Via the Nrf2 Transcription Factor in Aging Human Skin Fibroblasts David Christian Kraft, Custer C. Deocaris, Renu Wadhwa, Suresh I.S. Rattan.
59. Exercise and Hormesis: Activation of Cellular antioxidant Signaling Pathway. Li Li Ji, Maria-Carmen Gomez-Cabrera, Jose Vina.
60. Stem Cells - Potential therapy for Age-Related Diseases. Moustapha Kassem.
61. Heat Shock-induced Enhancement of Osteoblastic Differentiation of Htert Immortalized Mesenchymal Stem Cells. Rune Nørgaard, Moustapha Kassem, Suresh I.S. Rattan.
62. Selective Ppar Agonists for the Treatment of Diabetes Type 2. Jan Nehlin, John P. Mogensen, ingrid Petterson, Lone Jeppesen, Jan Fleckner, Erik M. Wulff, Per Sauerberg.
63. Alzheimers Disease Pathogenesis: Role of Aging Denham. Dennis Harman.
64. RNA Regulation in Mammals. Maciej Szymanski, Jan Barciszewski.
65. Quantum Dot-Based Protein Imaging and Functional Significance of Two Mitochondrial Chaperones in Cellular Senescence and Carcinogenesis. Zeenia Kaul, Kamaljit Kaur, Sunil C. Kaul, Renu Wadhwa.
66. Phage Displayed antibodies for the Detection of Glycated Proteasome in Aging Cells. Regina Gonzalez-Dosal, Morten Dræby Sørensen, Brian F.C. Clark, Suresh I. S. Rattan, Peter Kristensen.
67. Techniques Used in Studies of Age-Related DNA Methylation Changes. Tomasz K Wojdacz, Lise Lotte Hansen.
68. Geroprotection by Glycerol: insights to its Mechanisms and Clinical Potentials. Custer C. Deocaris, Bhupal G. Shrestha, David C. Kraft, Kazuhiko Yamasaki, Sunil C. Kaul, Kazunari Taira, Suresh I. S. Rattan, Renu Wadhwa.
69. Age-Dependent Effects of in Vitro Radiofrequency Exposure (Mobile Phone) on Cd95+ T Helper Human Lymphocytes. Miriam Capri, Stefano Salvioli, Serena Altilia, Federica Sevini, Daniel Remondini, Pietro Mesirca, Ferdinando Bersani, Daniela Monti, Claudio Franceschi.
70. Severe Acute Respiratory Syndrome and Phage Display. Morten Dræby Sørensen, Brian Sørensen, Connie Jenning Melchjorsen, Jens Weibel, Jing Wang, Chen Wie Jun, Yang Huanming, Peter Kristensen