Understanding and Paying Less Property Tax For Dummies, UK Edition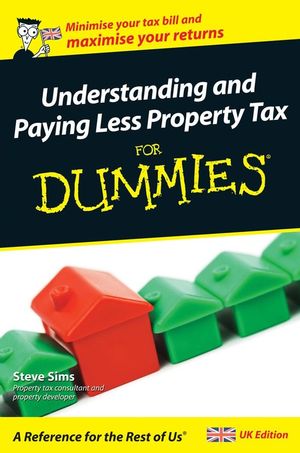 Understanding and Paying Less Property Tax For Dummies, UK Edition
ISBN: 978-1-119-99771-9
Feb 2011
324 pages
Description
This comprehensive guide to understanding and paying less property tax for dummies is the best-value beginners book on the market. Covering everything from commercial buy-to-let and jet-to-let to property development and investing through a company, it explains a notoriously confusing subject in straightforward and easy to follow language.  Packed full of tax saving tips and strategies, Understanding and Paying Less Tax For Dummies will help British property owners and investors minimise their tax bills and maximise their returns.
Introduction.
Part I: Property Tax Facts.
Chapter 1: You and Property Tax.
Chapter 2: Grasping Property Tax Basics.
Chapter 3: Triggering Tax and Dealing with the Taxman.
Chapter 4: Playing as Part of a Tax Team.
Part II: Balancing the Books.
Chapter 5: Keeping the Books Straight.
Chapter 6: Tracking Your Property Income.
Chapter 7: Counting the Costs of Your Property Business.
Part III: Property Taxes And How to Slash Them.
Chapter 8: Licking Stamp Duty.
Chapter 9: Saving Capital Gains Tax.
Chapter 10: Beating the Taxman on Capital Gains Tax.
Chapter 11: Inheritance Tax: Where There's a Will . . . .
Chapter 12: Managing Extra Property Tax Rules.
Chapter 13: Taking Tax-Free Cash from Your Property.
Part IV: Professional Property Investing.
Chapter 14: Developing Your Property Skills.
Chapter 15: Avoiding Development Tax Traps.
Chapter 16: Happy Holidays and Second Home Delights.
Chapter 17: Approaching Alternative Investments.
Part V: Keeping the Right Company.
Chapter 18: A Firm Commitment: Becoming a Company.
Chapter 19: Starting and Running a Property Company.
Chapter 20: Taxing Company Profits.
Chapter 21: Extracting the Cash from a Company.
Part VI: The Part of Tens.
Chapter 22: Ten Tax Tips to Save You Thousands.
Chapter 23: Ten Tax Disasters to Avoid.
Chapter 24: Ten Online Property Resources.
Index.
"...a step-by-step approach to setting up and running a tax-effective property business"
(UK Landlord, September 1, 2008)
"...this guide will pay for itself several times over...this book is well-timed to inspire people to revive the trade." (Accounting Technician. October 2008)