Understanding and Practicing Participatory Evaluation: New Directions for Evaluation, Number 80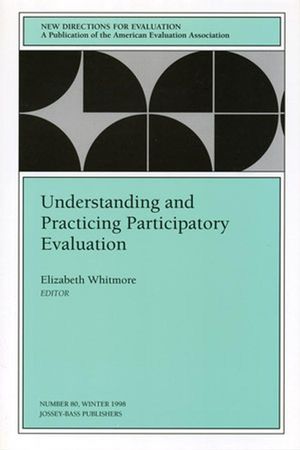 Understanding and Practicing Participatory Evaluation: New Directions for Evaluation, Number 80
ISBN: 978-0-787-91553-7 January 1999 Jossey-Bass 104 Pages
Description
Participation is viewed generally as a positive activity, certainly in the context of democratic societies. Although still contested in some quarters, the idea of stakeholder participation in evaluation is now widely accepted within the evaluation community. Yet the meanings, even the purposes, of stakeholder participation in evaluation remain diverse, multiple, and thus clouded in many contexts.
This volume presents participatory evaluation (PE) as a viable and creative addition to the contemporary repertoire of evaluation approaches. The authors address three basic questions: what is participatory evaluation, in what contexts is it most useful, and how does one actually do it in practice.
The two primary themes in the volume are what we identify as the the principal streams in PE: practical participatory evaluation (P-PE), which is pragmatic and has as its central function the fostering of evaluation use; and transformative participatory evaluation (T-PE), which is based in emancipation and social-justice activism and focuses on the empowerment of oppressed groups. In addition to discussing these two streams, historically and philosophically, the volume examines the practical challenges of PE, by presenting it as a process of engagement and by illustrating PE through diverse case examples. Critical reflection on both practice and theory offers valuable insights into and lessons about participation and evaluation.
This is the 80th issue of the quarterly journal New Directions for Evaluation.
Table of contents
1. Framing Participatory Evaluation (J. Bradley Cousins, Elizabeth Whitmore).
2. The History of Participatory Evaluation and Current Debates in the Field (Sharon Brisolara).
3. Evaluating for a Change: Reflections on Participatory Methodology (Beverley Burke).
4. Making Sense of a Participatory Evaluation Practice (Jean A. King).
5. A Case Study of Participatory Evaluation in Haiti (Francoise Coupal, Marie Simoneau).
6. Scaling Up: Participatory Monitoring and Evaluation of a Federal Empowerment Program (John Gaventa, Victoria Creed, Janice Morrissey).
Final Commentary (Elizabeth Whitmore).