Unfinished Business: Closing the Racial Achievement Gap in Our Schools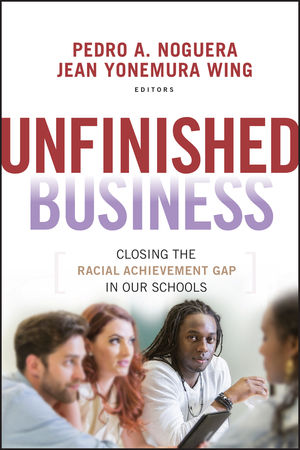 Unfinished Business: Closing the Racial Achievement Gap in Our Schools
ISBN: 978-0-470-38444-2 August 2008 Jossey-Bass 356 Pages
Description
In this groundbreaking book, co-editors Pedro Noguera and Jean Yonemura Wing, and their collaborators investigated the dynamics of race and achievement at Berkeley High School–a large public high school that the New York Times called "the most integrated high school in America." Berkeley's diverse student population clearly illustrates the "achievement gap" phenomenon in our schools. Unfinished Business brings to light the hidden inequities of schools–where cultural attitudes, academic tracking, curricular access, and after-school activities serve as sorting mechanisms that set students on paths of success or failure.
Cannot be combined with any other offers.
Original Price:$60.95
Purchased together:$45.71
save $15.24
Cannot be combined with any other offers.
Original Price:$38.90
Purchased together:$29.17
save $9.73
Table of contents
Acknowledgments v
Preface ix
Preface to the Paperback Edition xvii
The Editors xxvii
Part One: The Structure and Culture of Inequality in Schools 1
Introduction: Unfinished Business: Closing the Achievement Gap at Berkeley High School 3
Pedro A. Noguera, Jean Yonemura Wing
1 Structuring Inequality at Berkeley High 29
Beth C. Rubin, Jean Yonemura Wing, Pedro A. Noguera, Emma Haydée Fuentes, Daniel D. Liou, Alicia P. Rodriguez, Lance T. McCready
2 Integration Across Campus, Segregation Across Classrooms: A Close-up Look at Privilege 87
Jean Yonemura Wing
3 The Discipline Gap and the Normalization of Failure 121
Anne Gregory, Kysa Nygreen, Dana Michiko Moran
Part Two: Agency in the Fight for Equity 151
4 Changing Teacher Practice and Student Outcomes 153
Pharmicia M. Mosely
Teacher Voices: Dana Michiko Moran, LaShawn Routé Chatmon, Miriam Klein Stahl, Tamara Friedman, Leslie Anne Plettner, Susannah Bell, Magi Discoe, James Dopman
5 Creating Demand for Equity: Transforming the Role of Parents in Schools 201
LaShawn Routé Chatmon, Katrina Scott-George, Anne K. Okahara, Emma Haydée Fuentes, Jean Yonemura Wing, Pedro A. Noguera
Parent Voices: Isabel M. Parra, Julina Bastidas-Bonilla, Michael D. Miller, Juana Villegas, Vikki C. Davis, Liz Fuentes, Valerie B. Yerger
6 Songs of Experience: Student Reflections on Four Years at Berkeley High 247
Elena Silva
Student Voices: Nabila Lee Lester, Joseph Christiano, Jimmy Thong Tran, Pranoumphone (Pam) Pradachith, Jamie E. McMaryion, Shabnam Piryaei, Niles Xi'an Lichtenstein
Conclusion: Lessons Learned: The Limits and Possibilities of Using Research to Counter Racial Inequality 281
Pedro A. Noguera
Epilogue: Finishing School 297
Jabari Mahiri
References 305
Index 311
What's New
Tackles one of the thorniest and most important problems facing public schools

Offers fresh insight on racial dynamics and academic achievement in schools

Provides strategies for improving inequities in schools

Multiple perspectives represented -- parents, teachers, students, and the larger community