Unlocking the Secrets of the Fed: How Monetary Policy Affects the Economy and Your Wealth-Creation Potential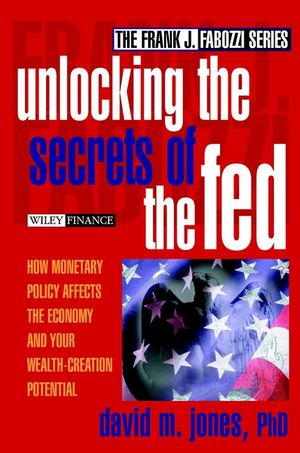 Unlocking the Secrets of the Fed: How Monetary Policy Affects the Economy and Your Wealth-Creation Potential
ISBN: 978-0-471-44562-3 November 2002 272 Pages
Description
Written by America's most respected Fed watcher-Dr. David Jones-Unlocking the Secrets of the Fed gets inside the world of monetary and fiscal policymaking and explains how understanding and anticipating the actions of the Federal Reserve is critical to your investment success.

This straightforward and well-rounded guide offers a wealth of practical information on the leading economic policy institution in the world-the Federal Reserve. This unique book:
* Addresses the impact of Federal Reserve actions on the economy and the average American's wealth-creation potential
* Closely examines the Fed's policy objectives, operating techniques, and favorite financial and economic indicators
* Reviews the modern-day Fed's main challenges
* Underscores the important role that psychology plays in our nation's economic expansions and contractions
* Explains asset price bubbles and the implications for the economy
* Assesses the performance of contemporary Fed leaders such as William McChesney Martin, Paul Volcker, and Alan Greenspan


As one of the pioneers of "Fed watching," Dr. Jones knows all there is to know about the Federal Reserve. Take this opportunity to learn how the Federal Reserve's decisions affect your investments as well as the economy as a whole.
Preface.

Acknowledgements.

About the Author.

Chapter 1. Celebrity Status--A Mixed Blessing.

Chapter 2. New Challenges.

Chapter 3. Potential Growth and Seven Rules for Central Bankers.

Chapter 4. Major Concerns.

Chapter 5. Monetary Policy Process and Indicators.

Chapter 6. Asset Price Bubbles--Beware.

Chapter 7. Top-Rated Contemporary Fed Leaders.

Chapter 8. Terrorist Turmoil.

Chapter 9. Conclusions.

Bibliography.

Index.
"I've frequently been asked by readers for a primer of sorts about the Federal Reserve and monetary policy. I haven't been able to come up with a suitable recommendation -- until the arrival of 'Unlocking the Secrets of the Fed'.... What's refreshing is that the book doesn't dwell on the irrelevancies that make up the typical economics text.... Instead, Jones offers eminently practical advice on how to be a successful Fed watcher." (Barron's, Ocxtober 7, 2002)