Unravelling Global Apartheid: An Overview of World Politics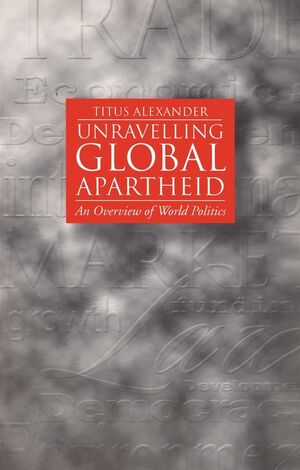 Unravelling Global Apartheid: An Overview of World Politics
ISBN: 978-0-745-61353-6 August 1996 Polity 320 Pages
Description
Unravelling Global Apartheid provides a clearly written overview of global problems as well as a vigorous analysis of the underlying causes and strategies for dealing with them.
Table of contents
Preface.
Introduction: What is Global Apartheid and Why does it Matter?.
1. The World in One Country.
2. The Dynamics of Separate Development.
3. The Economics of Global Apartheid.
4. Global Privileges of Private Enterprise.
5. Managed Markets of Global Apartheid.
6. Institutions of Global Apartheid: The UN System.
7. The Laws of Exclusion.
8. The Western Alliance Government.
9. The West Knows Best: Values and Ideology of Global Apartheid.
10. Prospects for Improvement.
Sources.
Index.
Reviews
'Its aim, in an age of popular disillusionment with conventional electoral politics, of reinvigorating grassroots social movements is laudable.'
The Times Higher Education Supplement
'A weighty and authoritative analysis of global apartheid, full of fresh thought and dazzling detail... As a source of ideas, facts, references, the most improbable of quotations, and signposts to further reading, it is an invaluable reference work for educators; as a source of inspiration, it is an epic antidote against little Englanders or indeed, little Europeanists.' WEA Journal Report Book
'More than other books which have covered the same ground, this one offers the reader a simple and powerful metaphor to understand the impact of complicated economic processes - global apartheid.'
Christian Aid News
'In spite of the serious message to Western politicians this is a hopeful and encouraging book which points the way forward for both rich and poorer nations ... Unravelling Global Apartheid will inspire both locally and globally.' Perspectives
'Alexander is to be congratulated on the precision and persistence with which he develops his core argument and on the inter-disciplinary breadth of his vision ... the book will have a useful role as a kind of polemical textbook to read alongside alternatives.' Democratization
'Those with a clear understanding of how the world is changing are most likely to be able to shape the future. Globalisation offers greater prosperity but also the threat of growing inequality. Acting only at national level we will not be able to meet these challenges. But acting together there is much we can achieve. We should take the arguments and analysis in this book very seriously.'
Rt Hon Clare Short MP, Secretary of State for International Development
Features
An introductory text accessible to first-year students in development studies
Provides a distinctive point of view about the origins of global inequality
Includes a wide variety of factual documentation about global economic divisions.