Upgrading and Fixing PCs For Dummies, 7th Edition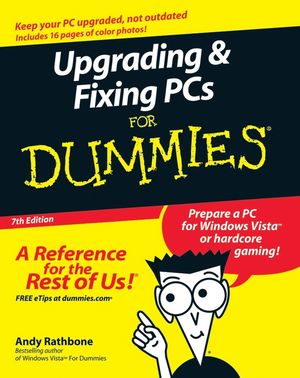 Upgrading and Fixing PCs For Dummies, 7th Edition
ISBN: 978-0-470-17101-1 July 2007 384 Pages
Description
Covers upgrades for gaming, digital video, and entertainment!
Transform your PC into a glitch-free, turbocharged, multimedia machine
Want to add punch to your PC? This handy reference helps add power to your old computer. Easy steps show you how to add memory, update your virus protection, get your PC ready for Windows Vista or rev it up as a cool entertainment center capable of recording TV shows or hearing DVDs in surround sound.
Move files from an old PC to a new one
Upgrade to Windows Vista
Get rid of computer viruses
Configure a wireless network
Add a TV tuner and DVD burner
Table of contents
Introduction.
Part I: Boring, Basic Repairs.
Chapter 1: Start Here First.
Chapter 2: Keyboards, Mice, and Joysticks.
Chapter 3: Replacing the Monitor, Adding a Second One, or Connecting to a TV.
Chapter 4: Choosing a New Printer.
Chapter 5: Moving from the Old PC to the New One.
Part II: Beefing Up Your PC for Windows Vista, Games, and Video.
Chapter 6: Discovering How Well Your PC Will Run Windows Vista.
Chapter 7: Beefing Up Your PC's Video.
Chapter 8: Adding More Memory.
Chapter 9: Adding Storage with a Hard Drive.
Chapter 10: Replacing the Power Supply or Laptop Battery.
Part III: Teaching an Old PC New Tricks.
Chapter 11: Fine-Tuning Your PC's Sound.
Chapter 12: Turning Your TV into a Home Theater with Vista's Media Center.
Chapter 13: Making Movies.
Chapter 14: Adding a Scanner.
Chapter 15: Adding a CD or DVD Drive.
Part IV: Communications.
Chapter 16: Replacing a Modem.
Chapter 17: Linking PCs with a Network.
Chapter 18: Filtering Out Evil with Firewalls.
Part V: Introducing Parts to Windows.
Chapter 19: Hiring the Right Driver for Windows.
Chapter 20: Installing or Upgrading to Windows Vista.
Chapter 21: Troubleshooting and Fixing Windows.
Chapter 22: Finding Help Online.
Part VI: The Part of Tens.
Chapter 23: Ten Cheap Fixes to Try First.
Chapter 24: Ten Handy Upgrade Tools.
Chapter 25: (Nearly) Ten Upgrade Do's and Donuts.
Appendix: The Rathbone Reference of Fine Ports.
Index.