Urban Economics and Real Estate: Theory and Policy, 2nd Edition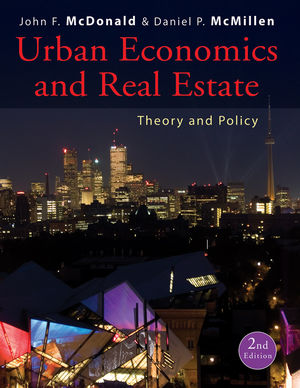 Urban Economics and Real Estate: Theory and Policy, 2nd Edition
ISBN: 978-0-470-59148-2 March 2010 560 Pages
Description
Unique in its coverage, Urban Economics and Real Estate allows an instructor to teach separate courses in either urban economics or urban real estate, or a blend of the two topics.   The portion on urban economics focuses on urban/suburban growth—physical as well as job growth.   The interplay of federal government and local authorities is discussed, and the effects of social problems, such as crime, poverty, and education that often accompany these changes are discussed.  

While the latest data sets available are utilized, Urban Economics' emphasis is on economic analysis.   The real estate chapters emphasize housing markets, appraisal, business investments, and their relationship to finance.   New to this edition is extensive coverage of international issues in cities around the planet.  Given the rapidly changing empirical side of urban demography, the text is accompanied by a website with new examples added annually and various discussions/tips about the latest data sets that become available.
Part I: Economics and Urban Areas.
Chapter 1. Introduction to Urban Economics.
Chapter 2. Schools of Thought in Urban Economics.
Chapter 3. Location Decisions, Agglomeration Economies, and the Origins of Cities.
Chapter 4. The Economic Functions of Cities.
Part II: Location Patterns in Urban Areas.
Chapter 5. Introduction to Urban Location Patterns: Static Analysis.
Chapter 6. Using the Monocentric City Model.
Chapter 7. Empirical Testing of the Moncentric City Model.
Part III: Urban Housing and Real Estate.
Chapter 8. Housing in Urban Areas.
Chapter 9. Housing Policy in the United States.
Chapter 10. Real Estate Law and Institutions.
Chapter 11. Real Estate Markets.
Chapter 12. Real Estate Development and Investment.
Part IV: Government in Urban Areas.
Chapter 13. The Public Sector in Urban Areas.
Chapter 14. Urban Transportation.
Part V: Urban Social Problems.
Chapter 15. An Overview of Urban Social Problems.
Chapter 16. Urban Poverty and Its Spatial Concentration.
Chapter 17. Crime in Urban Areas.
Chapter 18. Education, Labor Markets, and Migration.
Part VI: Urban Growth.
Chapter 19. Models of Metropolitan Economic Growth.
Chapter 20. Agglomeration Economies, Technical Change, and Urban Growth.
Chapter 21. Economic Development Policies for Urban Areas.
Appendix: A Review of Some Mathematics and Microeconomic Theory.
Answers to Selected Exercises.
Index.
New chapter on Urban Poverty in Developing Nations to go along with the Poverty in the U.S. Cities chapter.
Extensive international examples from Europe and Asia interspersed throughout the text.
New chapter on An Urbanizing World and Its Great Cities
New chapter on Urban Infrastructure
Provides a comprehensive approach to the economic factors that both define and affect modern urban areas, considering the economics of cities as a whole, rather than separating them into isolated topics
Analyzes topics such as urban housing, real estate markets, growth, and social and policy issues, and how these affect the economic functioning of a city
Includes in-depth discussions of real estate markets and policy issues
Considers the changing role of the city in economic life, and the effects of social problems, such as crime, poverty, and education that often accompany these changes
Offers a dedicated author-hosted website containing supplemental material at http://www.uic.edu/~mcmillen