Urban Economics and Real Estate: Theory and Policy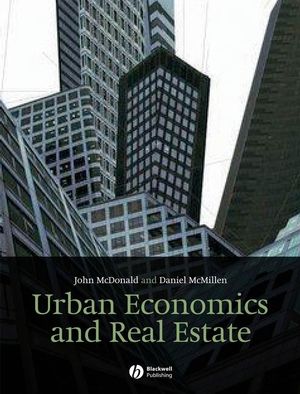 Urban Economics and Real Estate: Theory and Policy
ISBN: 978-1-405-13118-6
Nov 2006, Wiley-Blackwell
632 pages
Product not available for purchase
Description
Unique in its coverage, Urban Economics and Real Estate allows an instructor to teach separate courses in either urban economics or urban real estate, or a blend of the two topics.



Provides a comprehensive approach to the economic factors that both define and affect modern urban areas, considering the economics of cities as a whole, rather than separating them into isolated topics

Analyzes topics such as urban housing, real estate markets, growth, and social and policy issues, and how these affect the economic functioning of a city

Includes in-depth discussions of real estate markets and policy issues

Considers the changing role of the city in economic life, and the effects of social problems, such as crime, poverty, and education that often accompany these changes

Offers a dedicated author-hosted website containing supplemental material, available at http://www.uic.edu/~mcmillen.
Preface.
Acknowledgements.
Part I: Economics and Urban Areas:.
1. Introduction to Urban Economics.
2. Schools of Thought in Urban Economics.
3. Location Decisions, Agglomeration Economies, and the Origins of Cities.
4. The Economic Functions of Cities.
Part II: Location Patterns in Urban Areas:.
5. Introduction to Urban Location Patterns: Static Analysis.
6. Using the Monocentric City Model.
7. Empirical Testing of the Moncentric City Model.
Part III: Urban Housing and Real Estate:.
8. Housing in Urban Areas.
9. Housing Policy in the United States.
10. Real Estate Law and Institutions.
11. Real Estate Markets.
12. Real Estate Development and Investment.
Part IV: Government in Urban Areas:.
13. The Public Sector in Urban Areas.
14. Urban Transportation.
Part V: Urban Social Problems:.
15. An Overview of Urban Social Problems.
16. Urban Poverty and Its Spatial Concentration.
17. Crime in Urban Areas.
18. Education, Labor Markets, and Migration.
Part VI: Urban Growth:.
19. Models of Metropolitan Economic Growth.
20. Agglomeration Economies, Technical Change, and Urban Growth.
21. Economic Development Policies for Urban Areas.
Appendix: A Review of Some Mathematics and Microeconomic Theory.
Answers to Selected Exercises.
Index
"This book provides the rich context essential to understanding the market and public policy forces that shape residential and commercial real estate markets. Classic and emerging theories are presented with freshness and anchored in the real world by an abundance of relevant data. Defining housing with the 'House of Muth' and the 'House of Lancaster/Rosen' and starting the chapter on transportation with 'There's no such thing as a free road' make for lively reading. This book will set the standard for the intersection between urban and real estate economics."
Glenn Blomquist, University of Kentucky
"This book expertly melds theory and empirical hypothesis testing. McDonald and McMillen deftly convey why urban economics is such an exciting field of study. Students will be fascinated."
Matthew Kahn, The Fletcher School, Tufts University

"This book is a winner. Its skillful blend of real estate, urban microeconomics, and urban growth will meet the needs of nearly every urban economics course. McDonald and McMillen have produced an outstanding text."
Edward Coulson, Pennsylvania State University

"This masterful book by two of the most active researchers and clearest expositors in urban economics renders cutting-edge research on contemporary issues accessible to the general reader. Its fresh perspective yields both precision and incisiveness."
Marcus Berliant, Washington University, St. Louis



Provides a comprehensive approach to the economic factors that both define and affect modern urban areas, considering the economics of cities as a whole, rather than separating them into isolated topics

Analyzes topics such as urban housing, real estate markets, growth, and social and policy issues, and how these affect the economic functioning of a city

Includes in-depth discussions of real estate markets and policy issues

Considers the changing role of the city in economic life, and the effects of social problems, such as crime, poverty, and education that often accompany these changes

Offers a dedicated author-hosted website containing supplemental material at http://www.uic.edu/~mcmillen