Urban Geography, 3rd Edition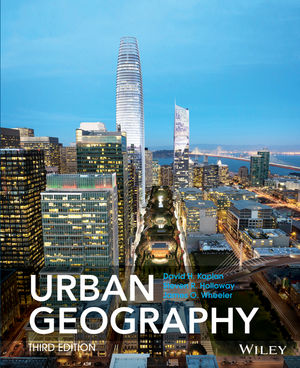 Urban Geography, 3rd Edition
ISBN: 978-1-118-86514-9
Apr 2014
512 pages
Description
Kaplan's Urban Geography uncovers the excitement and richness found in cities, while tackling the wide variety of urban challenges. This text offers a comprehensive treatment of urban geography, covering the field both as it has evolved and as it exists today and fully explores the origins and development of cities. Kaplan includes the most current research in urban studies, introduces elements of urban theory and methodology, and addresses the urban experience as a global one.
New updates in all chapters to reflect the most recent available data
Writing made even more accessible and student-friendly
Extensive new class exercises for each chapter to better integrate this text into your class.
Examines the spatial arrangements and distributions of activities in metropolitan areas, covering economic, social, and political landscapes.
A number of metropolitan systems are discussed at both U.S. and global scales.
Technology and Urban Geography boxes included in each chapter.
Includes maps, graphs, photographs and data that reflect current research.