Urban Outcasts: A Comparative Sociology of Advanced Marginality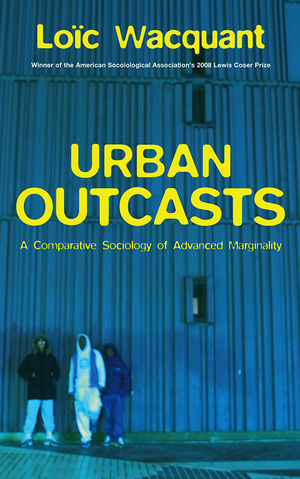 Urban Outcasts: A Comparative Sociology of Advanced Marginality
ISBN: 978-0-745-65747-9 April 2013 Polity 360 Pages
Download Product Flyer
Download Product Flyer
Download Product Flyer is to download PDF in new tab. This is a dummy description. Download Product Flyer is to download PDF in new tab. This is a dummy description. Download Product Flyer is to download PDF in new tab. This is a dummy description. Download Product Flyer is to download PDF in new tab. This is a dummy description.
Description
Breaking with the exoticizing cast of public discourse and conventional research,
Urban Outcasts
takes the reader inside the black ghetto of Chicago and the deindustrializing banlieue of Paris to discover that urban marginality is not everywhere the same. Drawing on a wealth of original field, survey and historical data, Loïc Wacquant shows that the involution of America's urban core after the 1960s is due not to the emergence of an 'underclass', but to the joint withdrawal of market and state fostered by public policies of racial separation and urban abandonment. In European cities, by contrast, the spread of districts of 'exclusion' does not herald the formation of ghettos. It stems from the decomposition of working-class territories under the press of mass unemployment, the casualization of work and the ethnic mixing of populations hitherto segregated, spawning urban formations akin to 'anti-ghettos'.
Comparing the US 'Black Belt' with the French 'Red Belt' demonstrates that state structures and policies play a decisive role in the articulation of class, race and place on both sides of the Atlantic. It also reveals the crystallization of a new regime of marginality fuelled by the fragmentation of wage labour, the retrenchment of the social state and the concentration of dispossessed categories in stigmatized areas bereft of a collective idiom of identity and claims-making. These defamed districts are not just the residual 'sinkholes' of a bygone economic era, but also the incubators of the precarious proletariat emerging under neoliberal capitalism.

Urban Outcasts sheds new light on the explosive mix of mounting misery, stupendous affluence and festering street violence resurging in the big cities of the First World. By specifying the different causal paths and experiential forms assumed by relegation in the American and the French metropolis, this book offers indispensable tools for rethinking urban marginality and for reinvigorating the public debate over social inequality and citizenship at century's dawn.
Table of contents
Detailed Contents ix
Ghetto, Banlieue, Favela, et caetera: Tools for Rethinking Urban Marginality 1
Prologue: An Old Problem in a New World? 13
1 The Return of the Repressed: Riots, 'Race' and Dualization in Three Advanced Societies 15
Part I From Communal Ghetto to Hyperghetto 41
2 The State and Fate of the Dark Ghetto at Century's Close 43
3 The Cost of Racial and Class Exclusion in 'Bronzeville' 92
4 West Side Story: A High-Insecurity Ward in Chicago 119
Part II Black Belt, Red Belt 133
5 From Conflation to Comparison: How Banlieues and Ghetto Converge and Contrast 135
6 Stigma and Division: From the Core of Chicago to the Margins of Paris 163
7 Dangerous Places: Violence, Isolation and the State 199
Part III Looking Ahead: Urban Marginality in the Twenty-First Century 227
8 The Rise of Advanced Marginality: Specifications and Implications 229
9 Logics of Urban Polarization from Below 257
Postscript: Theory, History and Politics in Urban Analysis 280
Acknowledgements and Sources 288
References 291
Index 330
Reviews
"This is a fantastic book that anyone interested in the historical trajectory of advanced capitalism and the marginality it breeds should read. The book's real strength is its fusion of political sociological theory, economic history and a rich, everyday ethnography ... Wacquant's political sociological method is the perfect complement to recent urban geographical scholarship that deconstructs the spatial political economy of 'neoliberal urbanism', opening up the impacts of these policies on the ground with surgical precision."
Area. Royal Geographic Society
"This book should be mandatory reading for scholars, graduate students and advanced undergraduates interested in this subject ... this is an exciting book written by one of the most prominent urban sociologists today. It provides a useful concept for understanding urban poverty (i.e. advanced marginality), outlines a powerful argument for how advanced marginality varies in different countries and, most importantly, identifies the power of states to shape the structure of these places and the life-chances of their residents."
Urban Studies
"Leading Chicago sociology Loïc Wacquant's comparative analysis of advanced marginality in the American ghetto and French banlieue is the best of a spate of works on urban poverty to be released recently."
Sociology
"A thoroughly researched manifesto for an urban sociology that empowers the new precarious labour force of the post-industrial city."
Race and Class
"[Wacquant] raises a series of valuable discussion points on methodology, scales of explanation, the value and challenges of comparative study, modes of writing, and the question of the author's positionality and its effects on the drama he is recounting - a rich harvest to garner from a single volume ... would make first-rate reading and discussion material for senior undergraduate and graduate seminars."
Annals of the Association of American Geographers
"
Urban Outcasts
is a majestic synthesis of research on urban marginality in advanced capitalist countries. It uncovers the common forces leading to a new kind of poverty on both sides of the Atlantic while forcefully demonstrating the distinctly different ways social exclusion operates in Europe and in America. This refreshingly new look at the nexus of race, class and space in the post-Fordist world is a major contribution to social theory and urban studies."
Ivan Szelenyi, author of Cities After Socialism and Patterns of Exclusion
"In this impressive book, Wacquant deploys his unparalleled knowledge of the black American ghetto and the French banlieue to tackle a series of foundational questions about inequality and poverty. He shows us the variable ways in which these two conditions get constituted in two strands of capitalism and how 'territorial stigmatization' affects both the strategies of the poor and the public policies aimed at their reserved zones. The result is a provocative analysis of polarization from below and of the lived realities of urban marginality."
Saskia Sassen, author of The Global City and Territory, Authority, Rights
Features


An outstanding and original volume from one of the USA's leading sociologists

Draws on a wealth of original fieldwork, surveys and historical data to show that the state of America's urban core is due to the public policies of segregation and abandonment

Casts new light on the explosive conjunction of mounting misery and stupendous affluence evident in the cities of advanced and advancing countries throughout the globe

Offers indispensable tools for rethinking urban marginality and for reinvigorating the public debate about social polarization and urban inequality at century's dawn