Urban Poverty and the Underclass: A Reader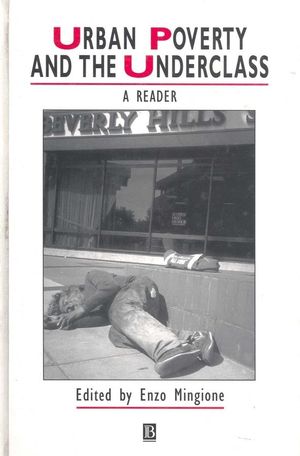 Urban Poverty and the Underclass: A Reader
ISBN: 978-0-470-71265-8
Sep 2008
448 pages
Description
Over the last two decades ""poverty"" has moved centrestage as an issue within the social sciences. This volume, edited by one of Europe's foremost sociologists, aims to assess the debates surrounding poverty and the responses to it, exploring the ways in which the various socio-political systems and welfarist regimes are being radically transformed. The essays examine how such change is effected by failing welfare programmes and enervating social structures such as family and community which once would have provided mechanisms of social stability.

The first part of the book provides reflections on urban poverty; the second part discusses the widely debated idea of an ""underclass"" and its meanings in Europe and in the USA, and the final part draws on concrete empirical analyses to examine the patterns of poverty thoughout Western Europe.

This volume will be of first-rate importance to all serious students of politics, sociology, geography, public policy, youth and community studies, social policy and American studies.
List of Figures.
List of Maps.
List of Tables.
Editorial Introduction: E. Mingione (University of Padova).
Part I: What is Urban Poverty?:.
1. Urban Poverty and the Underclass: E. Mingione (University of Padova).
2. Downdrift: Provoking Agents and Symptom-Formation Factors in the Process of Impoverishment: G. Micheli (Catholic University).
3. Service Employment Regimes and the New Inequality: S. Sassen (Columbia University).
4. The Eselusi, The Homeless: A. Tosi (Politecnico of Milan).
5. Culture, Politics, and National Discourses of the New Urban Poverty: H. Silver (Brown University).
Part II: The Underclass Debate: Ethnicity, Class and Culture:.
6. From ""Underclass"" to ""Undercaste"": Some Observations about the Future of the Post-Industrial Economy and its Major Victims: H. Gans (Columbia University).
7. A Note on Interpreting American Poverty: N. Fainstein (Vassar College).
8. Dangerous Classes: Neglected Aspects of the Underclass Debate: L. Morris (University of Essex).
9. Space and Race in the Post-Fordist City: The Outcast Ghetto and the Advanced Homelessness in the United States Today: P. Marcuse (Columbia University).
10. Minorities in Global Cities: New York and Los Angeles: J. Logan, R. Alba and T. McNulty (all University of New York at Albany).
11. Red belt, Black belt, Articulating Color, Class and Place in Chicago's Ghetto and the Parisian Periphery: L Wacquant (University of California).
Part III: The Poor in Europe: Marginality, Exlusion and Welfare:.
12. Social and Economic Change in Contemporary Britain: The Emergence of an Urban Underclass?: N. Buck (University of Essex).
13. The Social Morphology of the New Urban Poor in a Wealthly Italian City: the Case of Milan: F. Zajczyk (University of Milan).
14. Exclusion from Work and the Impoverishment Processes in Naples: E. Morlicchio (University of Naples).
15. Urban Poverty in Germany: a Comparative Analysis of the Profile of the Poor in Stuttgart and Berlin: H. Haussermann (Humboldt University of Berlin) and Y. Kazepov (University of Milan).
Conclusions: E. Mingione (University of Padova).
References.


Unique in examining poverty from a broad, comparative perspective.


The approaches are grounded in European and American case studies.


Provides up-to-date coverage.


Contributors are leading international commentators and respected authorities in this field.


Contributions are grounded by an empirical analysis of the patterns of poverty.