Urban Regeneration in Europe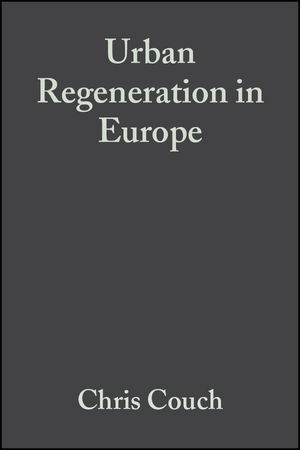 Urban Regeneration in Europe
ISBN: 978-0-470-68033-9 April 2008 Wiley-Blackwell 256 Pages
Download Product Flyer
Download Product Flyer
Download Product Flyer is to download PDF in new tab. This is a dummy description. Download Product Flyer is to download PDF in new tab. This is a dummy description. Download Product Flyer is to download PDF in new tab. This is a dummy description. Download Product Flyer is to download PDF in new tab. This is a dummy description.
Description
This book provides a comparative account of the process of urban regeneration and examines the factors influencing these processes, as well as the consequences of their implementation. Through a mixture of theoretical discussion and a series of case studies a thorough examination is made of the extent to which these different European old industrial conurbations are facing similar problems.
Table of contents
Contributors xi
Preface xv
Acknowledgements xvii
Acronyms xix
1 Introduction: the European Context and Theoretical Framework 1
Chris Couch and Charles Fraser
The contemporary European context 1
Issues in international comparative urban research 6
Research methodology 9
The choice of localities 13
The structure of the case studies 16
2 Change in the European Industrial City 17
Charles Fraser
The origins of the industrial city 17
The decline of the industrial city 19
The case for intervention 22
National policy responses 24
The impact of the European Union 30
New challenges 31
The response to the challenge 33
3 Urban Regeneration in Liverpool 34
Chris Couch
The city centre and docklands 37
Vauxhall and North Liverpool 49
Conclusions 54
4 Dundee: a City Discovering Inclusion and Regeneration 56
Greg Lloyd and John McCarthy
Introduction 56
Historic context 58
Decline and change 59
Revival 59
Culture, partnership and regionalism 65
Emerging agendas 67
Conclusion 68
5 Urban Regeneration in Belfast 69
Stephen McKay
Historical background 69
Recent population changes 71
Political context 72
Belfast City Council 74
Planning 76
Housing 78
Urban regeneration 78
Economic growth 82
Conclusion 84
6 Lille: from Textile Giant to Tertiary Turbine 85
Charles Fraser and Thierry Baert
Decline and the seeds of renewal 87
A changing image in the Nord 89
Economic restructuring 90
The Channel Tunnel 91
Administrative reform 92
The spatial planning context 93
The development results 94
An international profi le 97
Case studies 98
The evolution of French regeneration 106
Summary 107
7 Rotterdam: Structural Change and the Port 109
Chris Couch
Renewing older inner-city neighbourhoods 110
Rebuilding and maintaining the city centre 116
Kop van Zuid 118
Conclusions 124
8 Belgium: the Case of Wallonie 126
Charles Fraser and Luc Marechal
Historical background 126
A new beginning and a new programme 129
The process in action 132
Summary 134
9 Milan: the Bovisa District 135
Corinna Morandi
The historic context 135
Decline and change 138
Revival 141
Emerging agendas 146
Notes 148
10 The Ruhr: from Dereliction to Recovery 149
Susan Percy
Background 150
Regeneration and development in the Ruhr region 151
Emscher Park International Building Exhibition (IBA) 156
Conclusion 165
11 Economic and Physical Infl uences on Urban Regeneration in Europe 166
Chris Couch
Geographical location 166
The strength of the regional economy 169
The use of land and buildings 174
Conclusions 179
12 The Institutional and Financial Conditions of Urban Regeneration in Europe 180
Charles Fraser
Administrative structures 180
Political processes 187
Financial structures 189
Summary 198
13 New Agendas 200
Susan Percy
Globalisation and place marketing 200
New industries and links to education 203
Social exclusion 204
New alliances and partnerships 205
Promoting sustainability 207
Conclusions 208
14 Review 210
Charles Fraser, Chris Couch and Susan Percy
Bibliography 217
Index 227
Reviews
'I am delighted to endorse this book, which considers and debates urban regeneration in Europe. Its comprehensive aim of understanding regeneration problems, is given a unique insight by the use of practical European examples. The resultant conclusions target all that are interested in regeneration issues, and I am sure will assist the development of this topic and its process. It leans heavily on examples, so for a change allows realism to surface!Well done and I heartily recommend a read'.
Quote from Bruce Duncan BSc FRICS MCIArb, CHair RICS Regeneration Forum.
Features
* provides a comprehensive and informed presentation of European urban regeneration policies
* discusses the challenges and opportunities faced by former industrial areas
* develops current knowledge and understanding of the urban regeneration process
* takes an interdisciplinary approach
* covers: France, Italy, Holland, Belgium, Germany and the UK