User Involvement in Health Care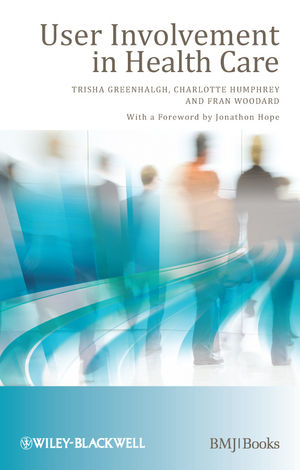 User Involvement in Health Care
ISBN: 978-1-444-34804-0 July 2011 BMJ Books 144 Pages
Description
How can the needs and perspective of patients be incorporated in the design and redesign of health services?
Health organizations are focusing more and more on patients – and requiring their employees to practise patient focused care. The Modernisation Initiative described in this book explores in three health service areas (kidney, stroke and sexual health services) how patients' and carers' involvement may inform and shape quality improvement work
This book guides you through the issues and challenges that teams seeking to involve users in changing health services are likely to face. It offers a wealth of practical knowledge about involving users. Those undertaking similar programmes, whether in primary care or hospital based, will find ideas and examples in this book to inspire and guide them.
Table of contents
Contributors vi
Foreword viii
Acknowledgements xii
Chapter 1 User involvement – a story of our time 1
Trisha Greenhalgh, Charlotte Humphrey & Fran Woodard
Chapter 2 What is already known about involving users in service transformation? 10
Ceri Butler & Trisha Greenhalgh
Chapter 3 Experience-based co-design 28
Vikki Pearce, Paula Baraitser, Gaynor Smith & Trisha Greenhalgh
Chapter 4 Patients as teachers and mentors 52
Gaynor Smith Jane Hughes & Trisha Greenhalgh
Chapter 5 Co-producing information 64
Jane Hughes, Gaynor Smith & Trisha Greenhalgh
Chapter 6 Involving users in leadership and governance 81
Fran Woodard, Lizzy Bovill & David Freedman
Chapter 7 Inherent tensions in involving users 104
Trisha Greenhalgh, Fran Woodard & Charlotte Humphrey
Chapter 8 Where next for user involvement? 116
Trisha Greenhalgh, Fran Woodard & Charlotte Humphrey
Index 127
Reviews
Review copy sent 27/05/11: Doody Enterprises Inc.