Using Emerging Technologies to Enhance Student Engagement: New Directions for Student Services, Number 124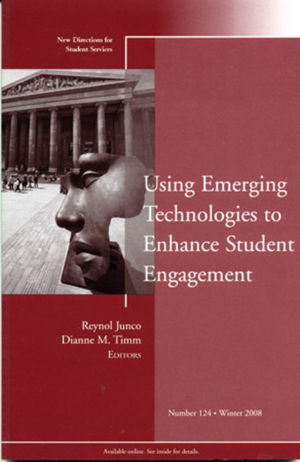 Using Emerging Technologies to Enhance Student Engagement: New Directions for Student Services, Number 124
ISBN: 978-0-470-44700-0
Jan 2009, Jossey-Bass
88 pages
Description
Today's college students have never known a time when personal computers did not exist. They attended K-12 schools where most of their classrooms were equipped with computers. Information technology has always been part of their learning process, not to mention the impact it has had on the development of their friendships, research and writing skills, shopping, and choice of college or university to attend. They expect that institutions of higher education will respond to their inquiries without delay, much in the same way that customer service is handled on the Web. Student expectations are driving the creation of live Web chats, in-house social networking sites, university wiki, and shared virtual spaces.

Unfortunately, higher education faculty and staff in general, and student affairs professionals in particular, are behind the curve in their use of information technology. Student affairs professionals are only starting to become aware that they should learn about the technologies that students have already integrated into their lives.

It is imperative that student affairs professions understand these technologies and learn how to implement them to
enhance student learning
build a sense of community
increase student engagement
facilitate communication This volume examines recent research on how information technology is affecting college student development and explores ways in which institutions are responding to increased demands for using emerging technology in supporting students.
This is the 124th volume of the Jossey-Bass quarterly report series New Directions for Student Services, an indispensable resource for vice presidents of student affairs, deans of students, student counselors, and other student services professionals.
Each issue of New Directions for Student Services offers guidelines and programs for aiding students in their total development: emotional, social, physical, and intellectual.
EDITORS' NOTES 1
Reynol Junco, Dianne M. Timm
1. An Introduction to Technologies Commonly Used by College Students 3
Reynol Junco, Gail A. Cole-Avent
This overview of the most popular technologies among college students today provides insight into how students use technology and the role technology plays in communication and educational pursuits.
2. Have You Facebooked Astin Lately? Using Technology to Increase Student Involvement 19
Greg Heiberger, Ruth Harper
Astin's model of student involvement provides a way of looking at the current and potential use of Facebook.com to enhance student engagement.
3. Technology Use in Campus Crisis 37
Jeanna Mastrodicasa
This chapter examines the impact of technology, such as cell phones and social networking sites, on students and administrators during a crisis, using examples from recent years, including Hurricane Katrina and Virginia Tech.
4. Students' Technology Use and the Impacts on Well-Being 55
Shelia R. Cotten
This review of the latest research on how technology use can affect students' psychological health and well-being also outlines areas for future research and suggestions for practice.
5. Blogging in the Academy 71
Shane Nackerud, Kurtis Scaletta
This chapter offers a thorough guide to blogging and its many uses in and out of the classroom to enhance the academic experience.
6. Privacy and Social Networking Sites 89
Dianne M. Timm, Carolyn J. Duven
The authors look at how students perceive privacy as it relates to social networking sites and the role staff and faculty play in using this medium on college campuses.
7. Technology for Institutional Enrollment, Communication, and Student Success 103
Grace Salas, Julie S. Alexander
Faculty and staff at institutions of higher education are finding strategies for using technology in new ways for communicating and managing information, in addition to collaborating.
8. Beyond the Horizon 117
Dianne M. Timm, Reynol Junco
Student affairs professionals will benefit from having a thorough understanding of the technologies available and how students are using them, in addition to staying informed as new technologies develop.
INDEX 125