Using Mixed Methods to Study Intersectionality in Higher Education: New Directions in Institutional Research, Number 151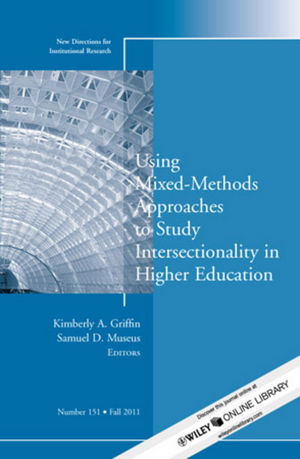 Using Mixed Methods to Study Intersectionality in Higher Education: New Directions in Institutional Research, Number 151
ISBN: 978-1-118-17347-3 October 2011 Jossey-Bass 122 Pages
Description
This volume offers institutional researchers several examples of the ways in which quantitative and qualitative methods can be integrated for a better grasp of how members of our educational communities understand and experience their environments on the basis of their multiple identities.

The first two chapters provide context for the volume's theme with definitions and overview of the underpinnings of mixted methodology. Subsequent chapters illustrate the multiple ways in which qualitative and quantitative methods can be integrated to understand the complexity of identity and experiences of marginalized groups in the academy.

Other chapters focus on students' experiences and demonstrate how mixed-methodology approaches were used to
explore college access among first-generation Asian Americans and Pacific Islanders
analyze racial ideology of white males with interview data driving analysis of longitudinal dataset
and research and accessment generating accurate understanding how of race and gender shape students' experiences within the campus
The final chapter presents findings of a mixed-methods inquiry to challenge current conceptions about racial categorization and practices for gathering institutional data on students' identity.

Volume editors Kimberly A Griffin, assistant professor of education policy studies at the Pennsylvania State University, and Samuel D. Museus, assistant professor of educational administration at University of Hawai?i Manoa, and contributing authors advocate for intersectionality research and argue that it holds great promise for advancing knowledge in higher education. Their book is ideal for institutions and institutional researchers who want to understand and most effectively serve their students and faculty.

This is the 151st volume of the Jossey-Bass quarterly report series New Directions for Institutional Research. Always timely and comprehensive, New Directions for Institutional Research provides planners and administrators in all types of academic institutions with guidelines in such areas as resource coordination, information analysis, program evaluation, and institutional management.
Editors' Notes 1
Kimberly A. Griffin, Samuel D. Museus
1. Mapping the Margins in Higher Education: On the Promise of Intersectionality Frameworks in Research and Discourse 5
Samuel D. Museus, Kimberly A. Griffin
This chapter defines intersectionality and asserts the importance of considering individuals' experiences as influenced by their multiple identities in higher education and institutional research.
2. Application of Mixed-Methods Approaches to Higher Education and Intersectional Analyses 15
Kimberly A. Griffin, Samuel D. Museus
Perceived methodological incompatibility, emergence of paradigmatic pragmatism, and basic types of mixed-methods research are presented in this chapter, along with a discussion of its usefulness in conducting intersectional analysis.
3. Intersectionality in Context: A Mixed-Methods Approach to Researching the Faculty Experience 27
Meghan J. Pifer
This chapter discusses how social network analysis and interviews can provide insight into how faculty identify like peers and form relationships with their colleagues.
4. Analyzing Gender Differences in Black Faculty Marginalization Through a Sequential Mixed-Methods Design 45
Kimberly A. Griffin, Jessica C. Bennett, Jessica Harris
Interviews and data from a national survey are used to explore how race and gender intersect and influence faculty experiences with marginalization in this chapter.
5. An Introductory Mixed-Methods Intersectionality Analysis of College Access and Equity: An Examination of First-Generation Asian Americans and Pacific Islanders 63
Samuel D. Museus
This chapter challenges the "model minority" myth, illustrating how a sequential analysis of national data and interviews can be used to understand how race, ethnicity, and generational status shape access to higher education.
6. Using a Sequential Exploratory Mixed-Method Design to Examine Racial Hyperprivilege in Higher Education 77
Nolan L. Cabrera
The results of a study of the racial ideologies of white male students are explored in this chapter through a sequential analysis of qualitative and quantitative data, highlighting the connections between privileged identities and the perpetuation of systemic racism.
7. The Utility of Using Mixed-Methods and Intersectionality Approaches in Conducting Research on Filipino American Students' Experiences with the Campus Climate and on Sense of Belonging 93
Dina C. Maramba, Samuel D. Museus
Qualitative and quantitative data are used in this chapter to illustrate how mixed methods promote deeper understanding of gender differences in how male and female Filipino students perceive and experience campus climate.
8. Identity, Intersectionality, and Mixed-Methods Approaches 103
Casandra E. Harper
This chapter addresses the challenges of capturing identity among mixed-race college students and reveals how mixed-methods strategies can illuminate change as well as the meaning associated with those changes.
Index 117