Using Qualitative Methods in Institutional Assessment: New Directions for Institutional Research, Number 136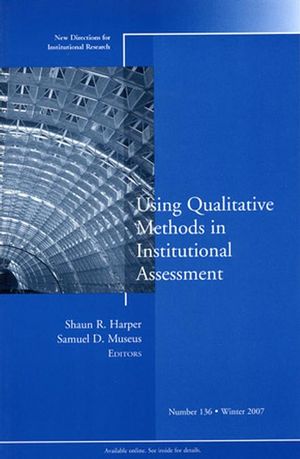 Using Qualitative Methods in Institutional Assessment: New Directions for Institutional Research, Number 136
ISBN: 978-0-470-28361-5 January 2008 Jossey-Bass 120 Pages
Description
This volume advocates the broad use of qualitative methods in assessment across American higher education: campus cultures, academic success and retention programs, student experiences and learning, and teaching effectiveness. The chapter authors suggest that responses to demands for increased accountability will be insufficient if researchers continue to rely almost exclusively on statistical analyses to assess institutional effectiveness. Instead, they recommend a variety of qualitative approaches that can produce rich and instructive data to guide institutional decision-making and action. In addition, they dispel common myths and misconceptions regarding the use of qualitative methods in assessment.

This is the 136th volume in the Jossey-Bass quarterly report series New Directions for Institutional Research, sponsored by the Association for Institutional Research.

Always timely and comprehensive, New Directions for Institutional Research provides planners and administrators in all types of academic institutions with guidelines in such areas as resource coordination, information analysis, program evaluation, and institutional management.
EDITORS' NOTES 1
Shaun R. Harper, Samuel D. Museus
1. Myths and Misconceptions About Using Qualitative Methods in Assessment 5
Shaun R. Harper, George D. Kuh
Erroneous assumptions about the adequacy of qualitative research have led to the underuse of these techniques in institutional assessment.
2. Enhancing Institutional Assessment Efforts Through Qualitative Methods 15
Nancy Van Note Chism, Trudy W. Banta
Qualitative methods, alone or in combination with quantitative techniques, are critical tools for developing in-depth understandings of focal phenomena and their contexts in institutional assessment.
3. Using Qualitative Methods to Assess Diverse Institutional Cultures 29
Samuel D. Museus
Qualitative techniques are necessary for conducting campus cultural assessments and to understand the role that institutional culture plays in the experiences and behaviors of individuals and groups on increasingly diverse college campuses.
4. Using Qualitative Methods to Assess Academic Success and Retention Programs for Underrepresented Minority Students 41
Denise O'Neil Green
Academic support and retention programs for underrepresented minority students can use qualitative assessment methods to meet the challenges posed by recent legal and political turbulence surrounding race-conscious initiatives.
5. Using Qualitative Methods to Assess Student Trajectories and College Impact 55
Shaun R. Harper
Moving beyond quantitative tallies and correlations to developing a rich understanding of how students navigate their educational environments and how to best meet their needs requires the use of interpretive research methods.
6. Using Qualitative Methods to Assess Student Learning in Higher Education 69
Melissa Contreras-McGavin, Adrianna J. Kezar
Qualitative approaches can help answer calls for accountability by enhancing the ability of institutional researchers to identify, comprehend, and convey what and how their students are learning.
7. Using Qualitative Methods to Assess Teaching Effectiveness 81
Lisa R. Lattuca, Jennifer M. Domagal-Goldman
It is important to transcend one-dimensional quantitative student evaluations of instructor performance and employ qualitative tools to develop a more holistic understanding of teaching effectiveness.
INDEX 95