Using Qualitative Research to Promote Organizational Intelligence: New Directions for Institutional Research, Number 174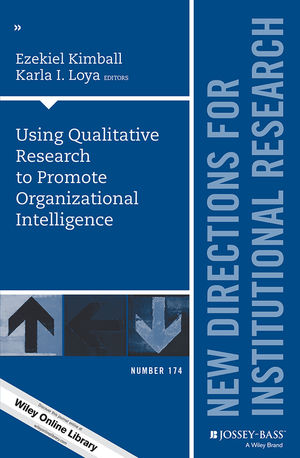 Using Qualitative Research to Promote Organizational Intelligence: New Directions for Institutional Research, Number 174
ISBN: 978-1-119-47434-0
Nov 2017, Jossey-Bass
112 pages
Description
Learn how to use qualitative research as a tool for institutional research.

Although institutional researchers often employ informal qualitative methods (their experiences and anecdotal observations), this volume argues that true organizational intelligence is facilitated by formalizing the qualitative data collection and analysis process in institutional research. To that end, it presents a systematic approach to qualitative research in institutional research that connects technical and analytical skills with issues awareness and knowledge of context. Topics covered include:
Technical/analytical awareness practices
Issues awareness
Practices that achieve contextual awareness.

This is the 174th volume of this Jossey-Bass quarterly report series. Timely and comprehensive, New Directions for Institutional Research provides planners and administrators in all types of academic institutions with guidelines in such areas as resource coordination, information analysis, program evaluation, and institutional management.
Editors' Notes 7
Karla I. Loya, Ezekiel Kimball
1. A Qualitative Toolkit for Institutional Research 11
Chrystal A. George Mwangi, Genia M. Bettencourt
2. Integrity Is More Than Validity: Seeking Credible, Usable, and Ethical Research 25
Sharon F. Rallis, Rachael B. Lawrence
3. Using Mixed Methods to Assess Initiatives With Broad-Based Goals 39
Karen Kurotsuchi Inkelas
4. Using Qualitative Research to Document Variations in Student Experience 53
Rachel E. Friedensen, Byron P. McCrae, Ezekiel Kimball
5. Context Matters: Using Qualitative Inquiry to Inform Departmental Effectiveness and Student Success 65
Elizabeth A. Williams, Martha L.A. Stassen
6. Cooperative Attention: Using Qualitative Case Studies to Study Peer Institutions 81
Bethany Lisi
7. Using Qualitative Inquiry to Promote Organizational Intelligence 95
Ezekiel Kimball, Karla I. Loya
INDEX 103