Using Teams in Higher Education: Cultural Foundations for Productive Change: New Directions for Institutional Research, Number 100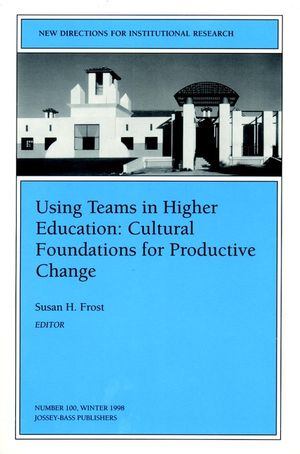 Using Teams in Higher Education: Cultural Foundations for Productive Change: New Directions for Institutional Research, Number 100
ISBN: 978-0-787-91415-8
Jan 1999, Jossey-Bass
108 pages
Description
In both conceptual and practical ways, the teams universities and colleges use, the cultures in which these teams succeed or fail, and the quality and value of the work they accomplish intersect both to provide opportunities for and take advantage of strategic change. This issue of New Directions for Institutional Research explores those intersections, with particular emphasis on the margins for mutual gain.

Drawing on research and practice from higher education, where teams are used with varying degrees of effectiveness, and from business, where teams are linked to survival, the authors address questions of culture, especially as they can affect significant aspects of teamwork. The authors also explore the theory and practice related to different types of teams and the dynamics that influence their success. They then present ideas and resources practitioners might use, from examining case studies to using applied models from other settings. Designed to be both provocative and helpful, this volume provides guidance for useful change.

This is the 100th issue of the quarterly journal New Directions for Institutional Research.
1. Organizations, Culture, and Teams: Links Toward Genuine Change (Susan H. Frost, Theresea W. Gillespie).
2. Fostering Teamwork and Teams from the Institutional Research Office (Peter Hurst, Michael Matier, Clint Sidle).
3. Thinking Differently About Academic Departments: The Academic Department as a Team (Peter Eckel).
4. Experimenting with Models of Faculty Collaboration: Factors That Promote Their Success (Shawn Jacqueline Bohen, James Stiles).
5. Trying Transformations: Implementing Team-Oriented Forms of Leadership (Adrianna Kezar).
6. Using Teams to Change a Culture: Developmental Advicing at Valencia Community College (Ronald B. Nelson).
7. Evolution or Revolution: Creating a Team-Based Organization (Duane W. Cross).
8. Using Teams in Higher Education: Resources for Researchers and Practitioners (Susan H. Frost, Pankaj Bidani).