Utopia, 3rd Edition, A Norton Critical Edition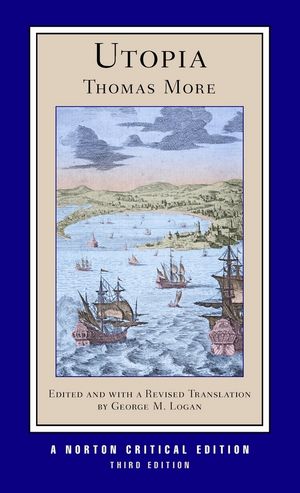 Utopia, 3rd Edition, A Norton Critical Edition
ISBN: 978-0-393-93246-1
*Norton agency titles
331 pages
Product not available for purchase
Description
Inspiring, provocative, prophetic, and enigmatic, Utopia is the literary masterpiece of a visionary statesman and one of the most influential books of the modern world.
Based on Thomas More's penetrating analysis of the folly and tragedy of the politics of his time and all times, Utopia (1516) is a seedbed of alternative political institutions and a perennially challenging exploration of the possibilities and limitations of political action.
This Norton Critical Edition is built on the translation that Robert M. Adams created for it in 1975. For the Third Edition, George M. Logan has carefully revised the translation, improving its accuracy while preserving the grace and verve that have made it the most highly regarded modern rendering of More's Renaissance Latin work.
Preface
Translator's Note
Abbreviations
The Text of Utopia
Backgrounds
Plato • [The Guardians]
Ovid • [The Golden Age and After]
The Acts of the Apostles • [The Community]
Lucian of Samosata • [Saturn's Age]
St. Ambrose • [Naboth's Vineyard]
St. Benedict • [Monastic Rules]
Chapter 33
Chapter 34
Anonymous • From The Land of Cockayne
Amerigo Vespucci • From The Four Voyages
The First Voyage
The Fourth Voyage
G. R. Elton • [The Problems of the Realm]
The Humanist Circle: Letters
Peter Giles to Jerome Busleyden
Jerome Busleyden to Thomas More
Guillaume Budé to Thomas Lupset
Erasmus of Rotterdam to Johann Froben
Thomas More to Peter Giles
Erasmus to Ulrich von Hutten