VBScript Programmer's Reference, 2nd Edition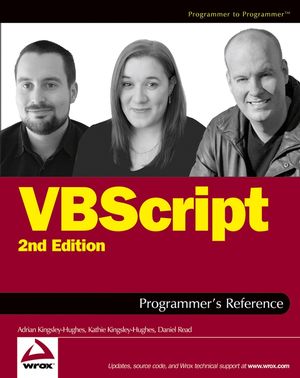 VBScript Programmer's Reference, 2nd Edition
ISBN: 978-0-764-57880-9
Oct 2004
716 pages
Product not available for purchase
Description
What is this book about?
The VBScript standard has changed over time, and several new things have been introduced since this book first published in 1999. The current standard for VBScript is 5.6. The script debugger, script control, and script encoder have all changed and the Windows Script Component Wizard, regular expressions, and remote scripting have been introduced. Windows Script Host technology has also matured over time and gained in both effectiveness and popularity.
VBScript Programmer's Reference, 2nd Edition begins with discussion of the general syntax, functions, keywords, style, error handling, and similar language-specific topics and then moves into an expanded reference section covering the object models in detail. The book combines a comprehensive overview of the VBScript technology and associated technologies with practical examples at every stage from beginner to advanced user.
Specific topics include the following:
Variables and Data Types
Procedures
Error Handling and Debugging
Windows Script Components
Script Encoding
Remote Scripting
Data Objects
Coding Conventions
About the Authors.
Acknowledgments.
Introduction.
Chapter 1: A Quick Introduction to Programming.
Chapter 2: What VBScript Is—and Isn't!
Chapter 3: Data Types.
Chapter 4: Variables and Procedures.
Chapter 5: Control of Flow.
Chapter 6: Error Handling and Debugging.
Chapter 7: The Scripting Runtime Objects.
Chapter 8: Classes in VBScript (Writing Your Own COM Objects).
Chapter 9: Regular Expressions.
Chapter 10: Client-Side Web Scripting.
Chapter 11: Super-Charged Client-Side Scripting.
Chapter 12: Windows Script Host.
Chapter 13: Windows Script Components.
Chapter 14: Script Encoding.
Chapter 15: Remote Scripting.
Chapter 16: HTML Applications.
Chapter 17: Server-Side Web Scripting.
Chapter 18: Adding VBScript to Your VB Applications.
Appendix A: VBScript Functions and Keywords.
Appendix B: Variable Naming Convention.
Appendix C: Coding Convention.
Appendix D: Visual Basic Constants Supported in VBScript.
Appendix E: VBScript Error Codes and the Err Object.
Appendix F: The Scripting Runtime Library Object Reference.
Appendix G: The Windows Script Host Object Model.
Appendix H: Regular Expressions.
Appendix I: VBScript Features not in VBA.
Appendix J: VBA Features not in VBScript.
Appendix K: The Variant Subtypes.
Appendix L: ActiveX Data Objects.
Index.
Chapter
Page
Details
Date
Print Run
4
4th paragraph
There is no spacing between words "use" and "your" in the following sentence: "If you did not write that script... others that use your code will encounter difficulties deciphering the code ...." Later in the same sentence the same error occurs involving words "the" and "code".
10/28/04

---

5
Last paragraph
Omitted word "four" in first sentence. "Line... is another comment."
10/28/04

---

10
Last paragraph
Last sentence should read "Compare our intelligent script...", not "Compare out intelligent script..."
10/28/04

---

13
Error in Text
First sentence:
"We'll being by taking a look..."

should read:
"We'll begin by taking a look..."
5/08/06

---

96
Error regarding ByVal & VBScript 5.6
At the bottom of p 96 the text states " ... if you do not specify one or the other explicitly, ByVal is the default." There is a similar statement on p 98. This is not true. In VBS 5.6, the default for passing arguments is ByRef, as demonstrated by the attached script. It was true, however, for the previous version of VBS.
2/3/05

---

179
Example script referred to in incorrect chapter
In the 1st Paragraph, the example script referred to is in Chapter 5 NOT Chapter 4.
9/16/04

---

296
Error in Text
The 3rd paragraph, 2nd sentence, has incorrect grammar/plural;

"The example captures the essentials of the technique to exposes properties."

Correct possibilities could be,

"The example captures the essentials of the technique to expose-(delete the "s")-properties"

Or if plural is prefered ie. "exposes", then change the word "to" to "that",

"The example captures the essentials of the technique that exposes properties
10/12/05

---

Index
Error in Index
the Index lists Select Case as being on p. 286. Select Case can actually be found on page 108.
9/05/06

---