VBScript Sourcebook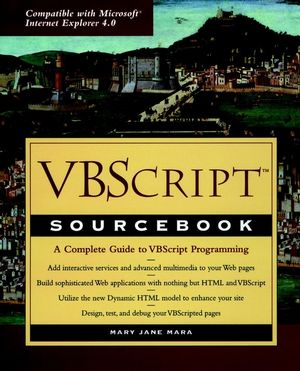 VBScript Sourcebook
ISBN: 978-0-471-19106-3
Nov 1997
608 pages
Product not available for purchase
Description
From the basics to advanced programming techniques, a complete tutorial on using VBScript to build cutting-edge Web sites.

No matter what your level of programming expertise, you will quickly master Microsoft's powerful new Web page scritping extension language. You'll learn to use VBScript with advanced HTML and Dynamic HTML, create self-validating forms, interactive games, and local databases using DHTML data binding, and enliven your Web pages with state-of-the-art multimedia using embedded objects.

Combining a structured approach to understanding and using VBScript with Hands-on practical advice, Mary Jane Mara takes you step-by-step from VBScript basics to advanced programming techniques.
Partial table of contents:

INTRODUCING VBSCRIPT.

Welcome to the Family.

The Basics of VBScript.

THE VBSCRIPT LANGUAGE.

Object Methods.

Event Handlers.

Statements.

VBSCRIPT IN THE REAL WORLD.

Writing Your Own Procedures.

Creating Your Own Arrays.

Troubleshooting Your Scripts.

ADVANCED VBSCRIPT.

The Joys of Dynamic HTML.

Working with External Objects.

Appendices.

Index.