VCP5 VMware Certified Professional on vSphere 5 Study Guide: Exam VCP-510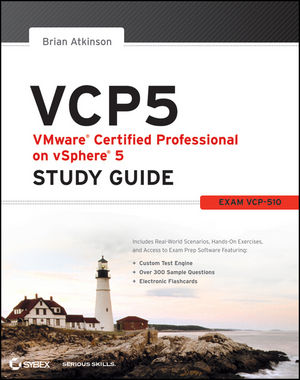 ">
Description
The VMware Certified Professional on vSphere 5—Datacenter Virtualization (VCP5-DCV) certification is the most desired certification for virtualization professionals, and this study guide covers all the requirements for the exam. Skill in virtualization is a top priority for companies when hiring IT staff, and VMware skills are in high demand. Part of the highly acclaimed Sybex Study Guide series, this comprehensive book guides you through planning, installing, and upgrading ESXi; configuring networking, storage, and vCenter Server; deploying and managing virtual machines, and much more.
Virtualization skills are in high demand by employers, and the VCP5-DCV certification enhances your marketability as an IT professional
This Sybex Study Guide helps prepare you to successfully complete all parts of the exam
Covers all aspects of ESXi planning, installation, upgrading, configuration, troubleshooting, and alarm management
Includes 100% coverage of the exam objectives, real world scenarios, hands-on exercises, challenging review questions, bonus practice exams, and electronic flashcards
If you want the best preparation for the VCP5-DCV exam, this is the study guide you need.
Introduction xxxiii
Assessment Test liii
Chapter 1 What's New in vSphere 5 1
Chapter 2 Plan, Install, Configure, and Upgrade vCenter Server and VMware ESXi 27
Chapter 3 Secure vCenter Server and ESXi and Identify vSphere Architecture and Solutions 95
Chapter 4 Plan and Configure vSphere Networking 143
Chapter 5 Plan and Configure vSphere Storage 219
Chapter 6 Create and Deploy Virtual Machines and vApps 299
Chapter 7 Manage and Administer Virtual Machines and vApps 373
Chapter 8 Establish Service Levels with Cluster, Fault Tolerance, and Resource Pools 421
Chapter 9 Maintain Service Levels 499
Chapter 10 Perform Basic Troubleshooting 593
Chapter 11 Monitor a vSphere Implementation and Manage vCenter Server Alarms 641
Appendix A Answers to Review Questions 703
Appendix B About the Additional Study Tools 719
Index 723
Click the "Register or Login Now" link below to register or login

Thank you for your interest in this Sybex product. This downloadable product includes the practice exams, flashcards and glossary of terms. To access the free downloadable files, please login or register by clicking the following URL. You'll proceed to the login/registration screen.
Register or Login Now
After you have registered and downloaded your Sybex product's zip file, follow these steps:

Unzip the downloaded file on your Windows computer.
** Note that the interface will not function properly unless you first unzip the file.
Click on start.exe to open the interface.
Read through the license agreement, and then click the Accept button to browse the contents.
If you experience trouble with the start.exe file or interface, please refer to the product ReadMe.txt file.
Chapter
Page
Details
Date
Print Run
1
19
Text correction: Error under vCenter Server Appliance
The first sentence of the second paragraph under the heading vCenter Server Appliance, beginning "Limitations of the vCenter Server Appliance..." contains an error.

Delete "no IPv6 support".

IPv6 is supported by the vCenter Server Appliance.
12/5/12
1st

---

4
195
Text correction: Error in discussion of Exercise 4.18
In the first paragraph following the numbered steps, the second sentence, regarding steps 13 and 14, should read:

"...you are choosing the options to move all virtual machines connected to the virtual machine port group on a dvSwitch to a vSwitch."
8/1/12
1st & 2nd

---

5
277
Text correction: Error in Table 5.7, ESXi hardware requirements for VSA
The entry under VSA cluster requirements for RAID should read:

"VMware recommends a RAID5, RAID6, or RAID10 configuration."
8/1/12
1st & 2nd

---

9
527
Text correction: Omitted command in Exercise 9.9
Step 22 instructs the reader to enter a command, but due to an editorial error the command was omitted.

$VM.RemoveAllSnapshots(0) is the command that should follow step 22.
7/5/12
1st

---