VMware Infrastructure 3 For Dummies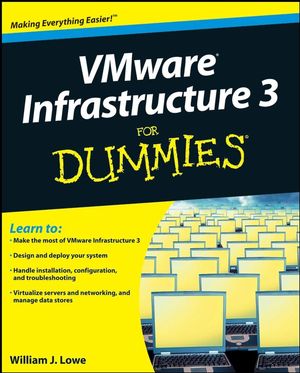 VMware Infrastructure 3 For Dummies
ISBN: 978-1-118-05250-1
Dec 2010
360 pages
Product not available for purchase
Description
VMware Infrastructure 3 for Dummies will help you understand, design, and deploy a reliable and fault tolerant Virtual Infrastructure 3 environment. Virtualization can save your business a lot of money! You'll find an introduction to the technology and learn from the key topics covered in each chapter. You will have enough information to design and deploy your first system without being overwhelmed by extensive technical details. You can also use this book as a reference for maintenance and troubleshooting.

You will find out what you need to do before you virtualize your machines. Learn about ESX servers, how to install them and their anatomy. Hook up your ESX servers with storage and data networks and understand what you need to know about networking and external storage. You'll be able to make everything fault tolerant with cluster technology. Find out how to:
Make the most of VMware Virtual Infrastructure 3
Design and deploy your system
Handle installation, configuration, and troubleshooting
Virtualize servers, storage and networking
Discover how to assure fault tolerance with clusters and the VirtualCenter database
Use resource pools, set them up, and secure them
Explore new options for disaster preparedness, including a virtual consolidated backup
Complete with lists of VMware products, the world of virtual appliances, and more information about VI3, VMware Infrastructure 3For Dummies is your one-stop guide to virtualizing your machines.
Introduction.
Part I: Ready, Set, Go with VMware Infrastructure 3.
Chapter 1: Exploring VMware Infrastructure 3 as Your Virtual Solution.
Chapter 2: Getting the Scoop on Capacity Planning.
Chapter 3: Knowing Your Storage Options.
Part II: Setting Up ESX Hosts.
Chapter 4: ESX: The Brawn Behind the Brain.
Chapter 5: ESX Installation — Now the Fun Begins.
Part III: Connecting the Physical to Your Virtual Environment.
Chapter 6: Embracing the Look and Feel of VMware Infrastructure Client.
Chapter 7: Virtual Networking.
Chapter 8: Connecting to Storage.
Part IV: Fault Tolerance and Data Centers.
Chapter 9: Getting VMware VirtualCenter Running.
Chapter 10: Making Virtual Machines.
Chapter 11: Managing Virtual Machines.
Chapter 12: Keeping Things Running with Virtual Clusters.
Part V: Playing Virtual Adminstrator.
Chapter 13: Securing Your System.
Chapter 14: Swimming in Resource Pools.
Chapter 15: Monitoring Your System.
Chapter 16: Preparing for Disaster.
Chapter 17: Troubleshooting.
Part VI: The Part of Tens.
Chapter 18: Ten Places to Discover More.
Chapter 19: Ten Other VMware Products.
Chapter 20: Ten Cool Virtual Appliances.
Index.