Valuation: Measuring and Managing the Value of Companies, 4th Edition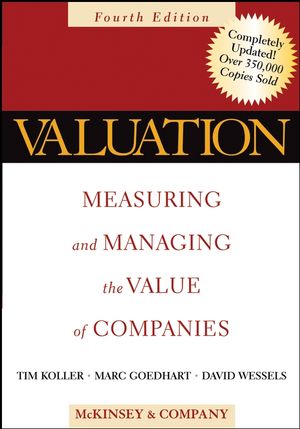 Valuation: Measuring and Managing the Value of Companies, 4th Edition
ISBN: 978-0-471-73896-1 August 2005 528 Pages
Description
Hailed by financial professionals worldwide as the single best guide of its kind, Valuation, Fourth Edition is thoroughly revised and expanded to reflect business conditions in today's volatile global economy. Valuation provides up-to-date insights and practical advice on how to create, manage, and measure an organization's value. Along with all-new case studies that illustrate how valuation techniques and principles are applied in real-world situations, this comprehensive guide has been updated to reflect the events of the Internet bubble and its effect on stock markets, new developments in academic finance, changes in accounting rules (both U. S. and IFRS), and an enhanced global perspective. This edition contains the solid framework that managers at all levels, investors, and students have come to trust.
Part One: Foundations of Value.
1. Why Maximize Value?
2. The Value Manager.
3. Fundamental Principles of Value Creation.
4. Do Fundamentals Really Drive the Stock Market?
Part Two: Core Valuation Techniques.
5. Frameworks for Valuation.
6. Thinking about Return on Invested Capital and Growth.
7. Analyzing Historical Performance.
8. Forecasting Performance.
9. Estimating Continuing Value.
10. Estimating the Cost of Capital.
11. Calculating and Interpreting Results.
12. Using Multiples for Valuation.
Part Three: Making Value Happen.
13. Performance Measurement.
14. Performance Management.
15. Creating Value through Mergers and Acquisitions.
16. Creating Value through Divestitures.
17. Capital Structure.
18. Investor Communications.
Part Four: Advanced Valuation Issues.
19. Valuing Multibusiness Companies.
20. Valuing Flexibility.
21. Cross-Border Valuation.
22. Valuation in Emerging Markets.
23. Valuing High-Growth Companies.
24. Valuing Cyclical Companies.
25. Valuing Financial Institutions.
Appendix A: Economic Profit and the Key Value Driver Formula.
Appendix B: Discounted Economic Profit Equals Discounted Free Cash Flow.
Appendix C: Adjusted Present Value Equals Discounted Free Cash Flow.
Appendix D: Levering and Unlevering the Cost of Equity.
Appendix E: Leverage and the Price-Earnings Multiple.
Index.