Value: Its Measurement, Design, and Management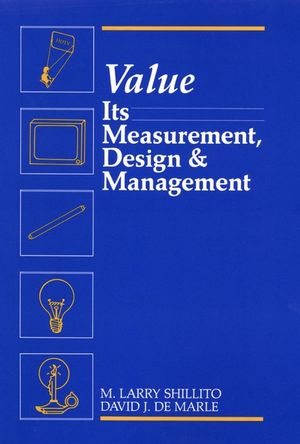 Value: Its Measurement, Design, and Management
ISBN: 978-0-471-52738-1
Jul 1992
368 pages
Description
Written for people of various professions and offering a modern approach to using value analysis for product development, this is a structured process that unites interdisciplinary teams in an organization to select and analyze projects in terms of investment potential and to integrate quality and productivity. It contains four sections that describe the nature, measurement, design and management of value.
THE NATURE OF VALUE.

The Value Force.

Value, Growth, and Evolution.

THE MEASUREMENT OF VALUE.

Value Measurement.

Value Measurement Techniques.

Modeling the Dynamics of Value.

Value and Decision Making.

THE DESIGN OF VALUE.

Function Analysis.

Quality Function Deployment: The Total Product Concept.

The Technology Road Map.

Customer-Oriented Product Concepting.

THE MANAGEMENT OF VALUE.

Valuism.

Value Management Methodologies.

Value Management: Behavioral and Organizational Aspects.

Value Planning.

Valuism, Value Management, and the Future.

Index.