Value Engineering: Practical Applications...for Design, Construction, Maintenance and Operations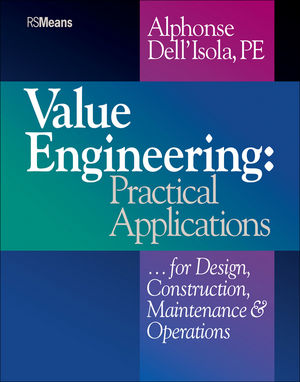 Value Engineering: Practical Applications...for Design, Construction, Maintenance and Operations
ISBN: 978-0-876-29463-5 September 1997 464 Pages
Description
Whether you are interested in enhancing your own applications of VE and LCC – or you need to understand the current methodology in order to hire a practitioner and oversee the process – this unique publication will provide the information you are seeking.

The book shows you:
How to organize and apply VE and life cycle costing for maximum benefit
Real-life VE demonstration projects – professionally organized reports, with recommendations you can apply right now
Project workbook with forms to conduct a complete VE study
List of Figures.
Preface and Acknowledgements.
About the Author.
Introduction: A Briefing.
The Objectives of Value Engineering.
The Reasons for Unnecessary Costs.
When to Apply Value Engineering.
VE Methodology and Techniques.
InterfaceWith Other Programs.
Demonstrated Impact of VE.
Part One: Value Engineering: Practical Applications.
Chapter One: Project Scope and Budget.
Elements of the Project Budget.
Prevalent Budgeting Techniques.
Cost Control.
Defining Project Scope.
Parameters and Parameter Cost.
Chapter Two: The Capitalized Income Approach to Project Budgeting (CIAPB).
CIAPB Objectives.
Measuring Property Value.
The Meaning of Capitalization.
The Capitalization Process.
The Need for Cost Control.
Chapter Three: Preparation of Cost Models.
Making Models.
Construction Cost Models.
Other Resources.
Types of Models.
Chapter Four: Planning for Value Engineering Services.
VE Objectives.
Level of Effort.
VE and Total Project Management.
Team Selection.
The VE Job Plan.
Chapter Five: Function Analysis.
Classifying Function.
Defining Functions.
Project Level Function Analysis System Techniques (FAST) Diagram.
Chapter Six: Creativity and Interpersonal Skills.
Creativity and Fixation.
Interpersonal Skills.
Human Factors.
Creativity Throughout the Job Plan.
The Generation of Ideas.
Delphi Technique.
Value Engineering—A Crafted Strategy.
Chapter Seven: Life Cycle Costing.
Decision Makers' Impact on LCC.
LCC and Total Building Costs.
LCC Terminology and Examples.
LCC Methodology.
Application of LCC to Buildings.
Chapter Eight: Integrating VE into the Construction Industry.
Planning and Design.
Construction.
Maintenance and Operations (M&O).
Chapter Nine: VE Applications to Risk Assessment and Analysis.
Risk Assessment.
Risk Analysis.
Part Two: Case Studies.
Case Study One: Corporate Office Building.
Case Study Two: Hospital and Staff Housing Complex.
Case Study Three: Refinery Facility.
Case Study Four: Master Planning Competition.
Case Study Five: Application to Design Review Government Headquarters/Complex.
Case Study Six: Highway Project: South Interchange.
Case Study Seven: Wastewater Treatment Plant.
Part Three: VEWorkbook.
Introduction.
List of Forms.
Phase 1: Information Phase.
Phase 2: Function Phase.
Phase 3: Creative Phase.
Idea Stimulator Checklist.
Phase 4: Analysis/Judicial Phase.
Analysis/Judicial Phase: Analysis/Development.
Analysis/Judicial Phase: Analysis/Evaluation.
Phase 5: Recommendation.
Phase 6: Presentation & Implementation.
Appendix.
Web Site Resources.
Value Engineering Services for CM/PM: Typical Scope ofWork.
Glossary of Terms.
Index.
Part Four: Diskette.
Life Cycle Cost Program with Linked Database.
VEWorkbook Forms with Supporting Linkages.