Value-based Management: Context and Application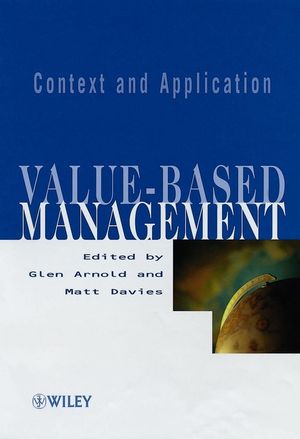 Value-based Management: Context and Application
ISBN: 978-0-471-89986-0
Jun 2000
388 pages
Description
Context and Application Value-Based Management Edited by Glen Arnold and Matt Davies Over the past ten years hundreds of leading companies worldwide have adopted the principles of value-based management (VBM), an approach to corporate strategy and business organisation in which the primary objective is always shareholder wealth maximisation. As VBM has become more widespread the idea of shareholder value has become integral to business. Consultancies have prospered by selling prescriptions for developing a value-oriented firm and managers thought to be excellent in generating shareholder value are held in high esteem and command huge salaries. This book draws on empirical evidence to demonstrate the success of VBM ideas as well as highlighting many of the hidden questions, doubts and difficulties. It examines the validity of some of the underlying assumptions of VBM and tackles many of the key technical issues. This book provides a timely assessment of the theory and practice of VBM as it grows to maturity.
Introduction (G. Arnold & M. Davies).

THE STATE OF VBM KNOWLEDGE: THEORY AND EVIDENCE.

Tracing the Development of Value-Based Management (G. Arnold).

Value-Based Management in Practice: A Critical Review (M. Davies).

CHALLENGING SHAREHOLDER WEALTH MAXIMISATION.

A Minifesto for Corporate Myopia (C. Carter & S. Conway).

Shareholder Wealth or Societal Welfare: A Stakeholder Perspective (S. Cooper).

The Dialectics of Corporate Value Measurement (D. Crowther).

APPLYING VALUE-BASED MANAGEMENT.

The Cost of Capital and Shareholder Value (J. Rutterford).

Value-Based Metrics as Divisional Performance Measures (G. Francis & C. Minchington).

Behavioural Impediments to Value-Based Management (J. Byrd, et al.).

Lessons from Practice: VBM at Lloyds TSB (M. Davies).

Making Value-Based Management a Way of Life (L. Kamhi).

Shareholder Value in Banking (P. Molyneux).

MEASURING VALUE: SOME CRITICAL PERSPECTIVES.

A Review of Accounting and VBM Alternatives (J. Forker & R. Powell).

Approaches to Value-Based Performance Measurement (J. Drukarczyk & A. Schueler).

VBM: A New Insight into the Goodwill Dilemma? (G. Owen).

Does Accounting Practice Undermine Value-Based Measurement? (M. Whittington).

Index.