Values-Based Decision-Making for the Caring Professions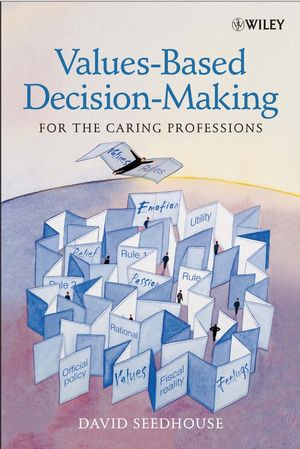 Values-Based Decision-Making for the Caring Professions
ISBN: 978-0-470-84735-0
Sep 2005
184 pages
Description
We have lost sight of the vital symmetry between values and evidence. Values lie behind absolutely everything we do, yet we allow technical decision-making to dominate every social sphere, as if only 'the evidence' really matters.

In this extraordinarily original and compelling book, David Seedhouse advocates values-based decision-making as a much-needed means of restoring humane balance to social planning, and explains the innovative use of information technology to turn values into evidence.

The potential of values-based decision-making is huge and exciting. The final chapter of this seminal work points the way to a democratic future in which everyone's values can be seen and heard, regardless of technical knowledge or social status.

Values-Based Decision-Making mostly uses examples drawn from the health field.  Like David Seedhouse's many other books, it will be of considerable interest to all health professionals.  But values-based decision-making reaches into every arena of human problem-solving, and should therefore be read by everyone who makes plans on behalf of other people.

For information about values-based decision-making software visit: vide.co.nz 

To join the Values Exchange® browse to: values-exchange.com
About the Author.
Preface.
Acknowledgements.
Introduction.
PART ONE: MR SPOCK'S MISTAKE.
Chapter One: The Limits of Reason.
Chapter Two: The Dominance of Values.
PART TWO: THE BIG PICTURE.
Chapter Three: The Truth about Relativism.
Chapter Four: How to Turn Values into Evidence.
Chapter Five: Goodbye Ethics Experts – The Democratic Promise of  Values-Based Decision-Making.
Epilogue.
References.
Index.
"…valuable as it allows the reader to closely examine the various methods by which decisions can be made…" (Doody's Health Services)
A realistic and practical guide to decision-making for all decision-makers
Outlines an innovative new decision-making device—the "values checker"
Explains simply and clearly five of the most common decision-making approaches
Extensively illustrated with accessible examples of direct clinical relevance
Written by an internationally renowned ethics scholar—the author of many books and articles and a popular speaker