Values-Based Estate Planning: A Step-by-Step Approach to Wealth Transfer for Professional Advisors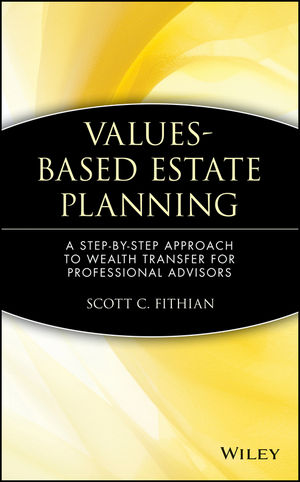 Values-Based Estate Planning: A Step-by-Step Approach to Wealth Transfer for Professional Advisors
ISBN: 978-0-471-38040-5
Apr 2000
272 pages
Description
Estate planning has more procrastination, indecision, and inertia associated with it than any other area of planning. Affluent baby boomers, in particular, as the beneficiaries of the largest intergenerational transfer of wealth in history, have a daunting set of financial concerns with which to contend. Here at last is a step-by-step approach to estate planning that equips planners and financial advisors to help clients tackle this important process once and for all.

Most clients understandably find planning concepts and strategies confusing, but most also have a fairly sound understanding of who and what is most important to them. These are the priorities from which to build the foundation of a successful estate plan. The seven principles explored in this book use personal values as a basis to form The Legacy Planning System. With this approach, advisors can:
* Help clients discover and solidify their deepest values, convictions, and objectives relative to their money
* Help clients express those values and objectives in a clearly written Family Financial Philosophy mission statement
* Serve as the team leader in advising clients and clients other advisors on how to use the mission statement to direct the planning process

Clarifying your clients priorities and personal goals will enable you, as a trusted advisor, to simplify the planning process for clients, ensure their lifetime financial independence, and help them control their ultimate family and social capital legacies. Confronting issues of family dynamics, taxes, and financial situations not to mention accepting one s own mortality is difficult for many people. In addition, since estate planning often requires a shift in ownership of assets, clients feel an unsettling loss of privacy and control over their financial resources. Help your clients to overcome these obstacles and achieve their highest financial and philanthropic aspirations. They ll thank you for generations to come.

Praise for Values-Based Estate Planning

""Scott Fithian s book provides planning professionals with new insights into the estate planning process. Most importantly, he stresses the individual and family benefits of philanthropy through the concept of social capital which should be a key element to the planner s inventory of client questions.""--Charles W. Collier, Senior Philanthropic Advisor, Harvard University

""This exceptional book empowers planners with a well- organized roadmap to lead wealthy clients to implementation of an estate plan expressing the clients own values. Scott Fithian s Legacy Planning System focuses the advisor on the critical importance to the estate planning process of helping clients identify and articulate their values and objectives. This useful volume makes those ideas available to a much broader audience, while broadening the subject with illustrations of effective employment of the methodology he has developed.""--David Wheeler Newman, JD, LLM, Mitchell, Silberberg & Knupp LLP

""Fithian s view of the complete person helps the advanced advisor avoid the typical limitations (hazards) of planning for wealthy families. The easy-to-understand and easy-to-follow methods help determine in-depth values of the client s total financial goals. His methods result in cementing valuable relationships with the most prized clients. Critical reading for CPAs, attorneys, insurance agents, or other advisors."" & mdash;Jessica M. Bibliowicz, President and CEO, National Financial Partners

""Scott s wealth optimization system is truly revolutionary. For the first time, affluent clients and their advisors can rely on a fully integrated system that spans all phases of wealth accumulation, management, and transfer over time. An outstanding reference!""--Robert Keys, The Private Client Group
THE SEVEN PRINCIPLES OF VALUES-BASED ESTATE PLANNING.

Eternal Planning: Why Clients Are Trapped.

Eternal Planning: Why Advisors Are Trapped.

Principle #1: Understand the Hierarchy of Planning Objectives.

Principle #2: Master the Concept of Social Capital.

Principle #3: Define the Family Finanical Philosophy.

Principle #4: Quantify Financial Independence.

Principle #5: Identify an Appropriate Family Legacy.

Principle #6: Maximize the Social Capital Legacy.

Principle #7: Build a Virtual Planning Team.

THE LEGACY PLANNING SYSTEM: A METHODOLOGY FOR OVERCOMING PLANNING OBSTACLES.

The Legacy Planning System.

Wealth Optimization and Design.

The Legacy Interview.

The Legacy Questionnaire.

The Legacy Goal Profile: Financial Independence.

The Legacy Goal Profile: Family and Social Capital Legacy Goals.

The Legacy Blueprint.

Drafting the Family Financial Philosophy.

Completing the Legacy Positive Focus.

Plan Design, Construction, and Execution.

Summary and Conclusion.

Appendices.

Index.