Vascular Brachytherap, 3rd Edition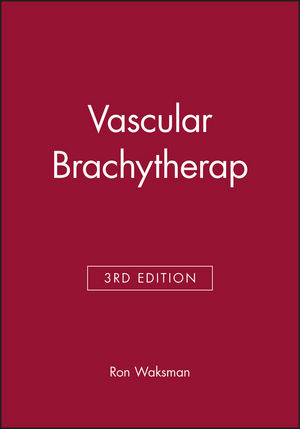 Vascular Brachytherap, 3rd Edition
ISBN: 978-0-879-93489-7
May 2002, Wiley-Blackwell
906 pages
Description
With the first coronary balloon angioplasty in 1977 came the challenge of the wound healing process of restenosis. Together these events spawned a new field of medicine, vascular brachytherapy, conceived to resolve this leading complication of vascular intervention. In the ensuing 20 year quest for a cure to restenosis, radiation vascular therapy appears to be the next logical step, but it still needs validation.


The new Vascular Brachytherapy, 3rd Edition continues to provide a comprehensive, engaging picture of this rapidly expanding and evolving field.


This collaborative effort contains 61 new or revised chapters by renowned experts from a vast range of medical fields, with over one-third more material than previous editions. Scientists, cardiologists, radiation oncologists, radiobiologists, pathologists, vascular surgeons, radiation safety officers, regulators, engineers, and technicians each take turns presenting carefully considered investigations and observations, supplemented with clinical and nonclinical data, basic radiation principles, and issues from an economic, regulatory, and safety perspective.


For an audience of clinicians, scientists and researchers from all the represented medical disciplines, this book provides in-depth information and exposure to subjects within these diverse areas of expertise.
Part I.
Mechanisms of Restenosis and Alternative Treatements.
Part II.
Radiation Bilogy andVascular Pathology.
Part III.
Radiation Physics and Dosimetry for Vascular Brachytherapy.
Part IV.
Radiation for Restenosis in Animal Models.
PART V.
Stents and Radiation.
Part VI.
Vascular Radiation and Peripheral Vascular Disease.
Part VII.
Imaging and Analysis.
Part VIII.
Endovascular Radiation Clinical Trials in Coronary Arteries.
Part IX.
Systems for Endovascular Radiation Therapy.
Part X.
Regulatory Health Care Milieu Issues.
Index.