Vascular Surgery: Basic Science and Clinical Correlations, 2nd Edition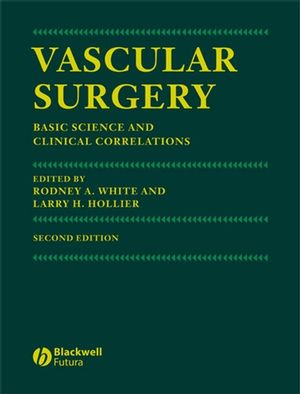 Vascular Surgery: Basic Science and Clinical Correlations, 2nd Edition
ISBN: 978-1-405-14380-6 April 2008 Wiley-Blackwell 648 Pages
Description
This second edition of a very successful vascular surgery text was developed in order to address significant changes that have occurred in contemporary vascular surgery and to highlight new information that has developed regarding vascular imaging, interventional and endovascular procedures. The overall length of the text is slightly shorter than the first edition with relevant core chapters being retained to emphasize the basic science nature of the text, with approximately 60% of the material undergoing major revisions or being new chapters.
The significant change from the first text is an emphasis on vascular pathology and physiology that is relevant to current practice including information that is currently included on the vascular board examinations. A new emphasis on endovascular therapies has been added by including five chapters on endovascular techniques and an additional section with six chapters comparing conventional vascular reconstruction to endovascular methods. These new chapters address the most important issue in contemporary vascular surgery, i.e., the role of endovascular methods in treating vascular lesions and the impact that this has on training and credentialing. A unique aspect of this book differentiating it from other texts is a comparison of conventional methods with the endovascular techniques.

Overall the text provides a comprehensive perspective of contemporary vascular surgery and future perspectives. The authors are preeminent in the field and are most capable for addressing the assigned topics with the goals being to provide an updated and forward looking text that accommodates the needs of practicing and training vascular surgeons.
Table of contents
Contributors vii
Preface xiii
Acknowledgments xiv
I Vascular pathology and physiology
1 Embryology and development of the vascular system 3
C. Phifer Nicholson and Peter Gloviczki
2 Vascular wall physiology 19
Christian C. Haudenschild
3 Hemostasis and coagulation 27
Donald L. Jacobs and Jonathan B. Towne
4 Molecular aspects of atherosclerosis 43
J. Jeffrey Alexander and John A. Moawad
5 Localization of atherosclerotic lesions 55
Christopher K. Zarins, Chengpei Xu, Charles A. Taylor and Seymour Glagov
6 Pathogenesis of arterial fibrodysplasia 66
James C. Stanley
7 Physiology of vasospastic disorders 80
Scott E. Musicant, Jean-Baptiste Roullet, James M. Edwards and Gregory L. Moneta
8 Buerger's disease 92
John Blebea and Richard F. Kempczinski
9 Ergotism 101
Roger F.J. Shepherd
10 Arteritis 114
Francis J. Kazmier
11 Adventitial cystic disease 119
Carlos E. Donayre
12 Entrapment syndromes 126
Carlos E. Donayre
13 Intimal hyperplasia 135
Ted R. Kohler
14 Thoracic outlet syndrome 146
Herbert I. Machleder
15 Aneurysmal disease 162
Juan Carlos Jimenez and Samuel Eric Wilson
16 Pathophysiology of renovascular hypertension 180
David L. Robaczewski, Richard H. Dean and Kimberley J. Hansen
17 Pathophysiology hemodynamics and complications of venous disease 192
Harold J. Welch, Kevin B. Raftery and Thomas F. O'Donnell Jr.
18 Physiologic changes in lymphatic dysfunction 207
Peter Gloviczki
19 Physiologic changes in visceral ischemia 215
Tina R. Desai, Joshua A. Tepper and Bruce L. Gewertz
20 Natural history of atherosclerosis in the lower extremity carotid and coronary circulations 225
Daniel B. Walsh
21 Neurologic basis for sympathetically maintained pain: causalgia and reflex sympathetic dystrophy 233
Marco Scoccianti and Rodney A. White
22 Compartment syndromes physiology 241
Malcolm O. Perry
23 Physiology of reperfusion injury 245
Shervanthi Homer-Vanniasinkam and D. Neil Granger
24 Cerebral ischemia 251
Hao Bui and Christian deVirgilio
25 Pathophysiology of spinal cord ischemia 257
Larry H. Hollier
26 Vascular erectile dysfunction: mechanisms and current approaches 228
Ralph G. DePalma
27 Portal hypertension: pathophysiology and clinical correlates 275
David Rigberg and Hugh A. Gelabert
II Noninvasive vascular diagnostics
28 Physiologic basis of hemodynamic measurement 295
R. Eugene Zierler
29 Spectral analysis 306
Christopher R.B. Merritt
30 Ultrasound imaging 315
Christopher R.B. Merritt
31 Radionuclide scanning 325
Robert E. Sonnemaker
32 Computed tomography 348
Anton Mlikotic and Irwin Walot
33 Magnetic resonance imaging 371
David Saloner, Rem van Tyen, Charles M. Anderson and Gary R. Caputo
III Invasive vascular diagnostics
34 Angiography 385
Anton Mlikotic and C. Mark Mehringer
35 Intravascular ultrasound 401
James T. Lee, George Kopchok and Rodney A. White
36 Angioscopy in peripheral vascular surgery 423
Arnold Miller and Thomas J. Hölzenbein
IV Medical management
37 Atherosclerosis: risk factors and medical management 441
Ralph G. DePalma and Virginia W. Hayes
38 Pharmacologic intervention: thrombolytic therapy 454
Anthony J. Comerota, A. Koneti Rao and Mohammad H. Eslami
39 Pharmacologic intervention: vasodilation therapy and rheologic agents 468
George Johnson Jr.
40 Pharmacologic intervention: lipid-lowering agents 473
Ralph G. DePalma
41 Infections and antibiotics in vascular surgery 477
Martin R. Back
V Endovascular interventions for vascular disease
42 Catheter-based approaches to the treatment of atheroembolic disease 495
Frank R. Arko, Christine Newman and Thomas J. Fogarty
43 Balloon angioplasty and transluminal recanalization devices 503
Rajesh Subramanian and Stephen R. Ramee
44 Endovascular stents 516
Frank J. Criado, Youssef Rizk, Gregory S. Domer and Hilde Jerius
45 Endovascular prostheses for repair of abdominal aortic aneurysms 520
Carlos E. Donayre
VI Comparison of conventional vascular reconstruction and endovascular techniques
46 Surgical and endovascular treatment of chronic ischemia of the lower limbs 533
Jean-Paul P.M. de Vries, Frans L. Moll and Jos C. van den Berg
47 Aortoiliac endovascular recanalization compared with surgical reconstruction 543
Peter L. Faries and Michael L. Marin
48 Endovascular stent–graft repair of thoracic aortic aneurysms and dissections 554
Jason T. Lee and Rodney A. White
49 Brachiocephalic vascular reconstructions compared with endovascular repair 567
Edward B. Diethrich
50 Carotid endarterectomy compared with carotid angioplasty and stenting 575
Mark R. Harrigan, Ricardo A. Hanel, Elad I. Levy, Lee R. Guterman and L. Nelson Hopkins
51 Endovascular intervention for venous occlusion compared with surgical reconstruction 587
Patricia E. Thorpe and Francisco J. Osse
Index 609
Colour plate section follows p.370
Features


This 2nd edition is fully updated and includes the significant changes related to endovascular technologies compared to conventional surgeries and eliminates any topics which are not directly related to the new focused approach

The revised contents represent only the most important and timely subject areas

The contributors are an international who's who in vascular surgery providing the major topics of clinical relevance