Vascular Surgical Approaches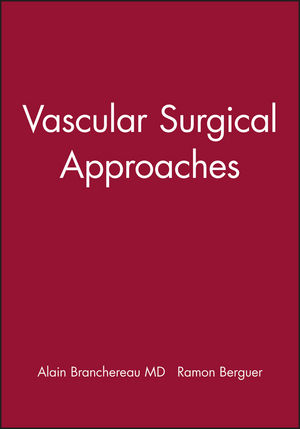 Vascular Surgical Approaches
ISBN: 978-0-879-93664-8 December 1999 Wiley-Blackwell 331 Pages
Description
More than just a translation from the acclaimed French work
Voies d'Abord des Vaisseaux
, this revised and updated second edition re-examines the current problems and practices facing today's vascular surgeons. Each chapter has been updated or completely rewritten to reflect the needs of the current practice of vascular surgery. The contributing authors were selected for their world-wide surgical expertise, reflecting both a European and North American view; they share with the senior editors a vision of surgical technique as an important "everyday" resource.
Each of more than 30 chapters is dedicated to finding the best approach to a specific vein, artery, or other site, with emphasis placed on thorough technical knowledge. With more than 80 illustrations new to this book, over 350 total illustrations provide excellent visual reference to the accompanying text. When appropriate, international anatomic nomenclature is used to guarantee a clear understanding of the material.
Because it deals with both basic and advanced techniques, this book will prove useful for vascular surgeons still in training, as well as those more experienced surgeons wishing to consult a definitive reference work. Any physician or surgeon interested in furthering their knowledge of invasive vascular and endovascular surgery would also benefit by reading this work.
Table of contents
Foreword.
Alain Branchereau, Ramon Berguer.
1. Carotid Bifurcation.
Alain Branchereau, Eugenio Rosset.
2. High Internal Carotid Exposure.
Ramon Berguer.
3. Intrapetrosal Internal Carotid Artery.
Jean-Marc Thomassin, Alain Branchereau.
4. Proximal Vertebral Artery.
Ramon Berguer.
5. Distal Vertebral Artery (C2-C1): Anatomic Features and Surgical Approach.
Eugenio Rosset, Alain Branchereau.
6. Suboccipital Approach to the Vertebral Artery.
Ramon Berguer.
7. Surgical Access to the Subclavian and Axillary Arteries.
John Hallet, Henri Mary.
8. Brachial Artery.
Bertrand Ede.
9. Arteries of the Forearm and Hand.
Bernard Enon.
10. Superior Vena Cava.
Pierre-Edouard Magnan.
11. Pulmonary Vessels.
Pascal Thomas, Pierre Fuentes, Pascal Di Mauro.
12. Supraaortic Trunks.
Ramon Berguer.
13. Coronary Arteries.
Xavier Barral, Jean-Pierre Favre, Jean-Paul Gournier.
14. Exposure for Harvesting of Coronary Bypass Grafts.
Dominique Blin, Olivier Chavannon.
15. The Aortic Arch.
Marie-Nadine Laborde, Eugène Baudet.
16. Descending Thoracic and Thoracoabdominal Aorta.
Edouard Kieffer, Fabien Koskas, Amine Bahnini, Didier Plissonnier, Patrick Brami.
17. The Abdomen: The Celiac Aorta.
Jean Baptiste Ricco, Frederic Dubreuil.
18. Retroperitoneal Approach to the Intraabdominal Aorta.
Gregorio Sicard, Boulos Toursarkissian.
19. Transperitoneal Approach to the Infrarenal Aorta.
Alain Branchereau, Jean-Pierre Mathieu.
20. The Iliac Arteries.
Pierre Tournigand.
21. Mesenteric Arteries.
Jean-Michel Jausseran, Michel Ferdani, Enrico Sbariglia, Jean Rizzi, Michel Reggi.
22. Renal Arteries.
Michel Lacombe.
23. Inferior Vena Cava.
Andris Kazmers.
24. Suprarenal Inferior Venal Cava.
Jean-Georges Kretz, Nabil Chafke, Philippe Nicolini.
25. Portal Vein and Branches.
Charles Lucas.
26. Access to the Femoral Artery.
Keith Calligaro, Matthew Dougherty.
27. Popliteal Artery.
Jean-Michel Chevalier, Patrick Feugier.
28. Arteries of the Leg.
Jacques Watelet, Didier Plissonnier, Patrick Soury, Jacques Testart.
29. Arteries of the Ankle and the Foot.
Michael Jacobs.
30. Unusual Surgical Approaches to the Deep Femoral, the Popliteal and Infrapopliteal Arteries.
Frank Veith.
31. Veins of the Lower Limb.
Michel Perrin, Jean-Louis Calvignac
Reviews
"General surgeons, neurosurgeons, and plastic surgeons whose practice occasionally involve vascular or microvascular procedures will find this book useful...The excellent description of unusual and alternative approaches and the accompanying discussions of their appropriate applications would certainly justify the addition of this book to any vascular surgeon's reference shelf."
--Journal of Vascular Surgery


"The book is well-organized, well-written, and concise. The strength lies in the detailed anatomic descriptions that are supplemented by the drawings and illustrations....This comprehensive book is highly recommended for the libraries of experienced vascular, cardiothoracic, and general surgeons as well as trainees in these fields. The book is easy to read, use, and apply,and it compares favorable to other anatomic atlas in vascular surgery."
--Doody's Review Service
"Overall, Vascular Surgical Approaches meets its goal of being a 'helpful tool' for vascular surgeons in training and in practice. Intended as a reference, it is not a cover-to-cover read. ...The strength of this book is the detailed written description of each approach and the technical maneuvers that facilitate performance, particularly on the less commonly
performed exposures. For this reason, it will maintain a position in my personal library.
--Current Surgery
"This book on vascular surgery exposures is a nice addition to the practicing vascular surgeon's library. It has a unique slant in select areas, owing a predominantly European authorship. It offers excellent illustrations and helpful accompanying text. The book provides a complete description of all basic exposures that encompass 90% of typical vascular surgery practice, and equally important, it discusses in detail most of the other 10%."
--Annals of Vascular Surgery