Vector Targeting for Therapeutic Gene Delivery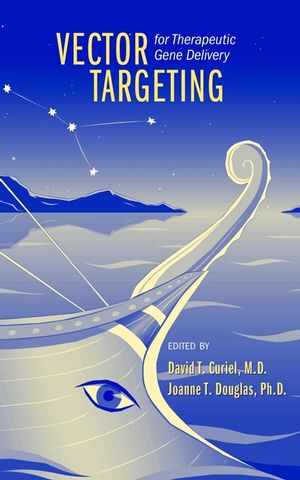 Vector Targeting for Therapeutic Gene Delivery
ISBN: 978-0-471-23430-2 March 2003 710 Pages
Description
"...very informative and comprehensive...belongs on the shelf ofevery library and lab providing essential resources for research onvector design or delivery."

-Cancer Biology and Therapy

This comprehensive volume presents the most recent advances intarget definition technology and provides a detailed overview onthe rational design of targeted vectors for gene therapy. Atheoretical framework for advanced vector design is provided thatintegrates all of the allied sciences relevant to the study ofvector targeting. The text discusses the basic underlying scienceand then leads to discussions of the various viral vectors andmethods of defining targets. Finally, an expert outlook onpromising therapeutic applications is offered.
Preface.

Contributors.

PART I: TRANSDUCTIONALLY TARGETED VECTORS--NONVIRAL.

Alternative Strategies for Targeted Delivery of NucleicAcid-Liposome Complexes (N. Templeton).

Targeted Gene Delivery via Lipidic Vectors (S. Li, et al.).

Immunoliposomes: A Targeted Delivery Tool for Cancer Treatment (K.Pirollo, et al.).

Receptor-Directed Gene Delivery Using Molecular Conjugates (A.Ziady & P. Davis).

PART II: TRANSDUCTIONALLY TARGETED VECTORS--VIRAL.

Pseudotyping of Adenoviral Vectors (M. Havenga, et al.).

Targeting of Adenoviral Gene Therapy Vectors: The Flexibility ofChemical and Molecular Conjugation (H. Haisma & M. Rots).

Genetic Targeting of Adenoviral Vectors (T. Wickham).

Strategies to Alter the Tropism of Adenoviral Vectors via GeneticCapsid Modification (D. Curiel).

Conjugate-Based Targeting of Adeno-Associated Virus Vectors (S.Ponnazhagan, et al.).

Receptor Targeting of Adeno-Associated Virus Vectors (H. Buning, etal.).

Mechanisms of Retroviral Particle Maturation and Attachment (A.Miyanohara & T. Friedmann).

Targeting Retroviral Vectors Using Molecular Bridges (J.Young).

Genetic Targeting of Retroviral Vectors (D. Dingli & S.Russell).

Genetic Engineering of Targeted Retroviral Vectors (E. Gordon, etal.).

Targeting Measles Virus Entry (A. Hammond, et al.).

Targeting of Poliovirus Replicons to Neurons in the Central NervousSystem (C. Morrow, et al.).

Generation of Safe, Targetable Sindbis Vectors that Have thePotential for Direct In Vivo Gene Therapy (D. Meruelo, etal.).

Redirecting the Tropism of HSV-1 for Gene Therapy Applications (Q.Bai, et al.).

Engineering Targeted Bacteriophage as Evolvable Vectors forTherapeutic Gene Delivery (D. Larocca & A. Baird).

Targeting Bacteriophage Vectors (I. Saggio).

PART III: TRANSCRIPTIONAL TARGETING.

Tumor/Tissue Selective Promoters (M. Fernandez & N.Lemoine).

Promoter Optimization and Artificial Promoters for TranscriptionalTargeting in Gene Therapy (D. Nettelbeck, et al.).

Physiological Targeting (K. Binley).

Clostridium-Mediated Transfer of Therapeutic Proteins to SolidTumors (P. Lambin, et al.).

PART IV: TARGET DEFINITION.

Selection of Peptides on Phage (M. Barry, et al.).

Antibody Phage Display Libraries for Use in Therapeutic GeneTargeting (P. Rohrbach & S. Dubel).

Single-Chain Fv Fragments from Phage Display Libraries (R.Kontermann).

Retroviral Particle Display for Complex Glycosylated andDisulfide-Bonded Protein Domains (S. Kayman).

Cell Surface Display and Cytometric Screening for Protein LigandIsolation and Engineering (P. Daugherty).

PART V: MONITORING OF TARGETING.

Monitoring Gene Therapy By Positron Emission Tomography (H.Herschman, et al.).

Index.
"...provides an excellent up-to-date account of thefield...an excellent textbook or addition to the library of astudent, researcher, teacher, and any library in general." (ASMNews, April 2004)

"...provides a very comprehensive picture of the currentstate of selective targeting of gene therapy vectors....timely,well written, and informative....of value both to investigatorswithin the gene therapy field and to other scientists who may beseeking an introduction to this exciting are of research."(Pharmaceutical Research, Vol. 20, No. 12, December2003)

"...very informative and comprehensive...belongs on the shelf ofevery library and lab providing essential resources for research onvector design or delivery." (Cancer Biology and Therapy)"[Vector Targeting for Therapeutic Gene Delivery] brings to the forefront all of the cutting edge research that is being performed to develop targeted versions of both viral and non-viral vectors. It is an up to date, comprehensive evaluation of all aspects of vector targeting and a reference book that no gene therapist should be without!" --Richard J. Cristiano, Ph.D., The University of Texas M.D. Anderson Cancer Center, Houston, TX