Vegetarian Cooking For Dummies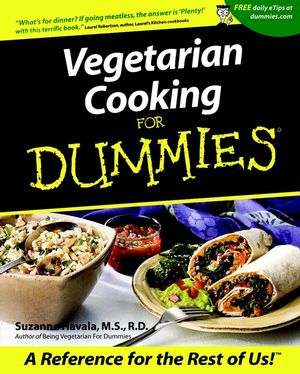 Vegetarian Cooking For Dummies
ISBN: 978-1-118-06955-4 April 2011 360 Pages
Description
If you thought you had to be a nutritionist to figure out a vegetarian diet, it's actually a lot simpler than you think. Eating vegetarian, in addition to being healthy and delicious, is just plain fun. Discovering new and exotic vegetables like celeriac or kohlrabi will widen your palate as well as your sense of adventure in the kitchen. Plus, vegetarian cuisine is chockfull of dishes that are robust and flavorful, and a match for any standard meat dish. And, most important of all, eating a plateful of vegetarian lasagna or pasta primavera, or any other scrumptious dish prepared vegetarian style will let you indulge—without guilt!

With Vegetarian Cooking For Dummies, you'll get the skinny on just what lacto-ovo, lacto, and just plain vegan diets are all about and how to create nutritious meals from the rich cornucopia of whole grains, legumes, vegetables, fruits, nuts and seeds, and dairy and egg substitutes that are the staple of the vegetarian menu. You'll also find out:
How to get your full complement of protein and vitamins, including calcium, iron, C, B12, and zinc—and from what, often surprising, food sources
How to successfully convert to a vegetarian diet
How to stock up a vegetarian pantry—including tips on where to shop, starting a kitchen garden, as well as handy weekly and monthly food lists
Vegetarian cooking basics—including preparing ingredients, cooking beans and grains, handling tofu and tempeh, washing and cutting fruits and vegetables
Simple cooking techniques—including baking, boiling, steaming, sautéing, and stewing
The ins and outs of vegetarian etiquette
Not only will you become fully acquainted with the new and delicious world of meat replacements (like tofu, tempeh, seitan, textured vegetable protein, veggie burgers and franks) and egg, dairy, yogurt and cheese substitutes, you'll see how truly simple and enjoyable cooking vegetarian can be. With over delicious 100 recipes, you'll find yourself choosing among such soon-to-be favorites as:
Smoothie snacks—including a Caramel Apple Smoothie and a Winter Berry Smooth
Breakfast dishes—including Savory Mushroom Tofu Quiche, Healthy Pancakes, and French Toasties
Delicious dips—including Hummus, Baba Ghanouj, and Fresh Avocado and Lime Dip
Soups for all seasons—including Vegetarian Chili with Cashews and Southern Sweet Onion Soup
Scrumptious salads—including Festive Broccoli Salad, Tofu Salad, and Lentil Vinaigrette Salad
Entrees for everyone—including Basic Bean Burritos, Spinach and Mushroom Manicotti, Garden Pizza, and Tempeh Sloppy Joes
Full of tips on adapting traditional recipes to vegetarian style cooking, plus a spicy spin on old standbys like Home Fries, Vegetarian Cooking For Dummies lets you reinvent the vegetarian lifestyle to suit your needs and tastes. With pages of full-color photos, black-and-white how-to illustrations, and humorous cartoons along the way, this fun, informative, and upbeat guide makes every meal an exciting step in the journey toward lifelong health.
Introduction 1

PART I: A Whirlwind Guide to Vegetarian Basics 7

Chapter 1: What Vegetarianism Is 9

Chapter 2: Nutrition Myths and Realities 21

Chapter 3: Moving to Meat-Free 33

Chapter 4: Planning Vegetarian Meals 43

PART II: Your Vegetarian Kitchen 57

Chapter 5: Common Vegetarian Ingredients 59

Chapter 6: Stocking Your Vegetarian Pantry 83

PART III: Tools and Techniques 103

Chapter 7: Tools of the Trade 105

Chapter 8: Vegetarian Cooking Basics 113

Chapter 9: Adapting Recipes 135

PART IV: The Recipes 147

Chapter 10: Beverage Basics 149

Chapter 11: Rise and Shine, It's Breakfast Time! 157

Chapter 12: Delicious Dips and Spreads 167

Chapter 13: Soups for All Seasons 175

Chapter 14: Simply Scrumptious Salads 183

Chapter 15: Entrees for Everyone 193

Chapter 16: Side Dish Spectaculars 223

Chapter 17: A Bounty of Breads and Rolls 237

Chapter 18: Desserts 251

Chapter 19: Hooray for Holidays! 273

Chapter 20: Menus Made Easy 281

PART V: The Part of Tens 289

Chapter 21: Ten Reasons to Cook Vegetarian 291

Chapter 22: Ten Practical Vegetarian Cookbooks 295

Chapter 23: Ten Helpful Web Sites to Check Out 299

Chapter 24: Ten Online Sources of Ingredients 303

Appendix: Metric Conversion Guide 307

Index. 311

Book Registration Information.