Vegetation Mapping: From Patch to Planet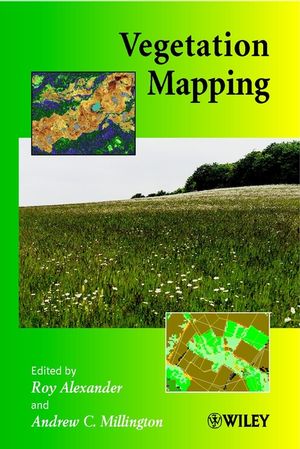 Vegetation Mapping: From Patch to Planet
ISBN: 978-0-471-96592-3
Jun 2000
350 pages
Description
Vegetation Mapping Edited by Roy Alexander Environment Research Group, Department of Geography, Chester College, UK and Andrew C. Millington Department of Geography, University of Leicester, UK The past decade has witnessed a resurgence of interest and activity in the mapping of vegetation that has been driven by the needs of environmental modellers and policy makers on the one hand and by the increased availability of data sets and sophisticated tools for their handling and analysis on the other. This increased activity, together with the greater variety of purposes for which vegetation maps are being produced, has led to a divergence of approaches, a wider range of entities being mapped and a more varied audience of end users. Over the same time period the researcher interested in vegetation mapping has had to consult an ever-broadening range of sources in order to keep abreast of developments in the field. This book seeks to provide a review of recent developments in vegetation mapping and the purposes for which it is carried out by bringing together a series of case studies covering techniques and their applications at a range of spatial scales. The work included covers scales of enquiry from the quadrat to the biome, studies based on data gathered from ground, air and space, and applications of mapping in temperate, semi arid and tropical environments. Issues involved in the use of data sets from different sources, the recognition and handling of error and the effects of scale are also given detailed consideration. The volume concludes with a review of contemporary approaches to vegetation mapping and the identification of some key research questions. Vegetation Mapping will thus serve as a collected source of reference on techniques and approaches for the researcher while providing a rich variety of case study and methodological information for postgraduate students and undergraduates following specialist courses.
Vegetation Mapping from Ground, Air and Space -
Competitive or Complementary Techniques? (B. Wyatt).
SITE AND LOCAL SCALE.
Cover Distribution Patterns of Lichen, Annuals and Shrubs in the Tabernas Desert, Almeria, Spain (R. Lazaro, et al.).
The Use of Microscale Field Mapping in a Study of the Ox-eye Daisy (Leucanthemum vulgare L.) as a Component of Wild Flower Meadows (P. Spearman, et al.).
Mapping Grassland at the Whole Site Level, with Special Reference to the Impact of Agricultural Improvement (R. Gilliver).
Non-destructive Sampling of Cretan Garigue Biomass as Ground Truth for Remote Sensing (E. Jones).
Remote Sensing of Semi-natural Upland Vegetation: The Relationship between Species Composition and Spectral Response (R. Armitage, et al.).
Integrating Photointerpretation and GIS for Vegetation Mapping: Some Issues of Error (D. Green S. Hartley).
Vegetation Analysis, Mapping and Environmental Relationships at a Local Scale, Jotunheimen, Southern Norway (P. Coker).
Determining the Composition of the Blanket Bogs of Scotland Using Landsat Thematic Mapper (E. Reid N. Quarmby).
An Assessment of the Land Cover Map of Great Britain within Headwater Stream Catchments for Four River Systems in England and Wales (A. Brooks, et al.).
Mapping Humid Tropical Vegetation in Eastern Bolivia (J. Wellens, et al.).
Mapping Vegetation in Complex, Mountainous Terrain (A. Millington S. Jehangir).
REGIONAL AND CONTINENTAL SCALE.
Land Cover Changes in Scotland over the Past 50 Years (E. Mackey G. Tudor).
Application of CORINE Land Cover Mapping to Estimate Surface Carbon Pools in Northern Ireland (M. Cruickshank, et al.).
Mapping of Carbon Pools in the Vegetation and Soils of Great Britain (R. Milne T. Brown).
Mapping the Forests of Cameroon: Scales and Scaling-up (P. Atkinson).
Mapping the World's Tropical Moist Forests (C. Billington).
CONCLUSIONS.
Vegetation Mapping in the Last Three Decades of the Twentieth Century (A. Millington R. Alexander).
Index.
"...a fascinating and timely review of vegetation mapping techniques and applications..." (Biological Conservation, No.107, 2002)

"...its breadth and depth are admirable..." (Jnl of Biogeography, No.29, 2002)