Ventricular Tachycardia / Fibrillation Ablation: The state of the Art based on the VeniceChart International Consensus Document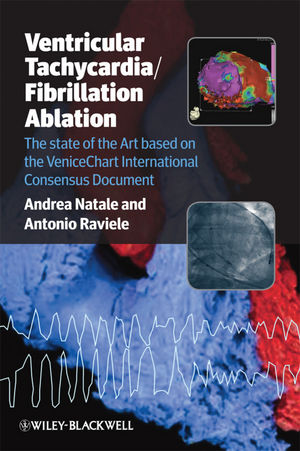 Ventricular Tachycardia / Fibrillation Ablation: The state of the Art based on the VeniceChart International Consensus Document
ISBN: 978-1-444-33073-1
Sep 2009, Wiley-Blackwell
152 pages
Description
Describes best practices in Ventricular Tachycardia and Fibrillation Ablation based on a consensus of the world's leading experts, based on the annual 'Venice Arrythmias' meeting.
Catheter ablation of atrial fibrillation has become a widespread, yet controversial, treatment modality in electrophysiology laboratories.
Presents a comprehensive and up-to-date overview of all the most important and debated aspects of atrial fibrillation ablation.
Covers all key topics, from pre- and intra-procedural management to best techniques and outcomes for patients with and without structural HD to Indications for VT/VF ablation and hybrid therapy to future tools and treatment options.
Preface, vi
List of Contributors, vii
VeniceChart Task Force Composition, xxiii
1 Epidemiology, Classifi cation, and Clinical Impact of Ventricular Tachycardia/Ventricular Fibrillation 1
2 Anatomy of Right/Left Ventricles and Surrounding Structures in Health and Disease 46
3 Pathophysiology and Mechanisms of Ventricular Tachycardia/Ventricular Fibrillation 66
4 Electrocardiogram Features of Ventricular Tachycardia/Ventricular Fibrillation as Expression of the Underlying Mechanisms and Site of Origin 79
5 Pre- and Intraprocedural Management 88
6 Mapping Methods for Ventricular Tachycardia Ablation 98
7 Imaging Tools, Energy Sources and Catheters for Ventricular Tachycardia/Ventricular Fibrillation Ablation, 117
8 Ablation of Ventricular Tachycardia/Ventricular Fibrillation in Patients with Structural Heart Disease: Techniques and Results 132
9 Ablation of Ventricular Tachycardia/Ventricular Fibrillation in Patients without Structural Heart Disease: Techniques and Results 183
10 Acute and Periprocedural Complications 205
11 Post-ventricular Tachycardia Ablation Follow-up Management 219
12 Surgical Ablation 227
13 Indications to Ventricular Tachycardia/Ventricular Fibrillation Ablation and Hybrid Therapy 237
14 Future Tools and Treatment Options for Catheter Ablation of Ventricular Tachycardia/Ventricular Fibrillation 258
Index 273