Venture Capital, Private Equity, and the Financing of Entrepreneurship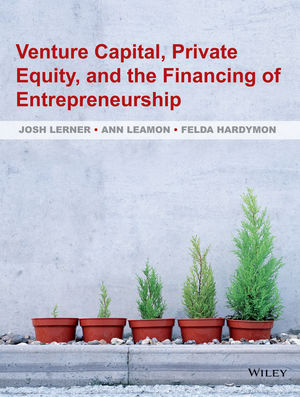 Venture Capital, Private Equity, and the Financing of Entrepreneurship
ISBN: 978-0-470-59143-7 January 2012 464 Pages
Description
Venture Capital, Private Equity, and the Financing of Entrepreneurship stems from a realization that private equity overall - defined in this volume as venture capital and buyouts but excluding hedge funds - has become a vastly more sizable and influential part of the global economic landscape over the past two decades.

The text explores the world of active investing and showcases ways of doing business in a clear and concise manner. With more than 60 years of combined experience as practitioners in and/or academic investigators of private equity, Lerner, Leamon, and Hardymon explain how the fascinating world of private equity works, from start to finish, how it creates value, and where it may destroy value.
1 Introduction
2 The Private Equity Cycle - Fund Raising & Fund Choosing
3 Deal Sourcing and Evaluation - Not as Easy as it Looks
4 Assigning Value
5 Deal Structuring - Private Equity Securities and Their Motivation
6 After the money arrives?
7 Getting liquid: Exits and distributions.
8 The globalization of venture capital and private equity
9 Risk and return
10 The Impact of Private Equity on Society - Does This Really Matter Anyway?
11 People, Positions and Culture: The Management of the Private Equity Firm
12 Scaling and institutionalization
13 Boom and bust
14 Wrapping Up
15 Glossary

• It provides a comprehensive explanation of buyouts and venture capital -the industry that gave you Facebook, Google, Apple, Federal Express, and Skype.
• It describes the incentives and motivations behind the various actors - groups that invest in funds, those that invest in companies, and the CEOs and entrepreneurs who found and run the companies.
• Written by authors with a combination of more than 60 years of industry experience as academics and practitioners, it is suitable for any individuals seeking a broader understanding of the basics of this fascinating and complex industry.