Vera Brittain: A Feminist Life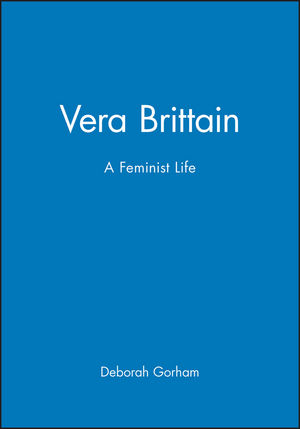 Vera Brittain: A Feminist Life
ISBN: 978-0-631-14715-2
Apr 1996, Wiley-Blackwell
350 pages
Description
This is a biographical study of the English writer and social activist Vera Brittain, author of Testament of Youth .
Acknowledgements.
1. Introduction.
Part I: Macclesfield and Buxton:.
2. Origin, 1893-1911.
3. 'Provincial Young Ladyhood', 1911-1914.
Part II: 'History's Greatest Disaster': Love and Work in the Great War:.
4. Somerville, 1914-1915.
5. Love in Wartime.
6. War Work.
Part III: 'Lady into Woman': Friendship, Work and Marriage in the 1920s:.
7. Friendship and Feminism.
8. Feminism and Internationalism.
9. Semi-detached Marriage.
Part IV: 'Having Crossed the Rubicon': The 1930s and After:.
10. The Writing of Testament of Youth.
11. 'Having crossed the Rubicon.'.
12. Conclusion.
"Gorham has written an important life of Vera Brittain that scholars and students of the period will not want to miss."
American Historical Review, June 1997
"By far the most substantial product of academic interest in Brittain to have appeared to date." Times Literary Supplement
"Sensitive and compelling biography." The Toronto Star
"Gorham is to be commended for producing a balanced book, and for making extensive and intelligent use of feminist criticism. Gorham has been blessed with extensive source materials and has used them well in a fine, provocative, inspiriting biography." The Women's Review of Books, July 1996
Scholarly but readable evaluation of the historical contribution of one the leading C20 female figures (author of Testament of Youth serialized on TV)
Subject of wide, general interest for work as writer, feminist and pacifist
Draws from both published and unpublished material
Illustrated with photographs from archives.