Veterinary Clinical Parasitology, 8th Edition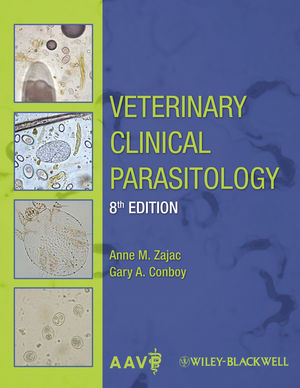 Veterinary Clinical Parasitology, 8th Edition
ISBN: 978-0-813-82053-8 February 2012 Wiley-Blackwell 368 Pages
Selected type:
Spiral-bound paperback
Description
Veterinary Clinical Parasitology, Eighth Edition, prepared under the auspices of the American Association of Veterinary Parasitologists (AAVP), emphasizes the morphologic identification of both internal and external parasites of domestic animals. Focusing on the tests and information most relevant to daily practice, the book describes accurate, cost-effective techniques for diagnosing parasitic infections in animals. Including clear, easy-to-find information on the distribution, life cycle, and importance of each parasite, Veterinary Clinical Parasitology offers more than 450 images to aid with diagnosis.

The Eighth Edition includes a new chapter on immunologic and molecular diagnosis, increased coverage of ticks and new sections on identification of microfilariae and larvae in diagnostic samples. The new edition also features expanded information on quantitative egg counts, detection of anthelmintic resistance and identification of ruminant strongylid larvae.  Additional improvements include many new images throughout the book, revised taxonomic information, a new layout featuring tabs by section to improve user-friendliness, and a companion website offering the images from the book in PowerPoint at www.wiley.com/go/zajac.  Veterinary Clinical Parasitology is a highly practical benchside reference invaluable to clinicians, technicians, and students.
Preface vii
Acknowledgments ix
Authors xi
CHAPTER 1 Fecal Examination for the Diagnosis of Parasitism 3
Collection of Fecal Samples 3
Storage and Shipment of Fecal Samples 4
Fecal Exam Procedures 4
Fecal Flotation 4
Additional Procedures for Fecal Examination 12
Quality Control for Fecal Exam Procedures 15
Use of the Microscope 16
Microscope Calibration 16
Pseudoparasites and Spurious Parasites 19
Identification of Nematode Larvae Recovered with Fecal Flotation or Baermann Procedures 23
Techniques for Evaluation of Strongylid Nematodes in Grazing Animals 28
Fecal Culture 28
Identification of Ruminant and Camelid Third-Stage Larvae 29
Identification of Horse Third-Stage Larvae 30
Fecal Egg Count Reduction Test 30
Identification of Adult Worms 38
Hoyer's Solution 39
Lactophenol 39
Parasites of Domestic Animals 39
Dogs and Cats 40
Ruminants and Camelids 88
Horses 114
Swine 128
Birds 140
Rodents and Rabbits 156
Reptiles 164
CHAPTER 2 Detection of Protozoan and Helminth Parasites in the Urinary, Reproductive, and Integumentary Systems and in the Eye 171
Techniques for Parasite Recovery 171
Parasites of the Urinary System 171
Parasites of the Reproductive Tract 171
Helminth Parasites of the Integumentary System 172
Urinary System Parasites 174
Reproductive System Parasites 178
Parasites of Other Systems (Excluding Arthropods) 178
CHAPTER 3 Detection of Parasites in the Blood 185
Immunologic Detection of Blood Parasites 185
Microscopic Examination of Blood for Protozoan Parasites 185
Giemsa Stain 186
Microscopic Examination of Blood for Nematode Parasites 187
Tests for Canine Heartworm Microfi lariae in Blood Samples 188
Blood Parasites of Dogs and Cats 191
Blood Parasites of Livestock and Horses 202
Blood Parasites of Birds 208
CHAPTER 4 Immunodiagnostic and Molecular Diagnostic Tests in Veterinary Parasitology 213
Immunodiagnostic Methods 213
Molecular Diagnostic Methods 216
CHAPTER 5 Diagnosis of Arthropod Parasites 217
Subclass Acari (Mites and Ticks) 217
Mite Identification 217
Tick Identification 246
Class Insecta 264
Lice (Orders Anoplura and Mallophaga) 266
Fleas (Order Siphonaptera) 280
Flies (Order Diptera) 288
Other Insects 302
CHAPTER 6 Parasites of Fish 305
Techniques for Recovery of Ectoparasites 305
Skin Biopsy (Mucus Smear) 305
Fin Biopsy (Fin Snip) 306
Gill Biopsy (Gill Snip) 307
Recovery of Endoparasites 307
Parasites of Fish 308
Bibliography 325
Index 327
Companion website
This book is accompanied by a companion website:
The website includes powerpoints of all figures from the book for downloading.
New chapter describing immunologic and molecular techniques of diagnosis and providing a list of tests commercially currently available in the USA
Improved/increased coverage of camelids, reptiles, and other exotics
More information on quantitative egg counts (due to increased drug resistance worldwide)
More complete coverage of organisms
New illustrations throughout, with poorer quality images replaced
More size bars to demonstrate scale on the photographs 
New colorful text design
New internal tabs to promote accessibility
New companion website with all the figures for download
"This book is one which the reviewer can see as being very useful both in the veterinary technology classroom as well as on the bench of a working laboratory."  (Veterinary Information Network, 9 January 2013)
"Overall, an excellent reference book with outstanding images and aids to parasite identification. I have utterly enjoyed the opportunity to review this book and will value its addition to our lab bookshelf ."  (Veterinary Record, 15 June 2013)
"This update would be an excellent resource for anyone involved in veterinary parasitology, practitioners as well as students. It provides practical, useful, and up-to-date information."  (Doody's, 17 August 2012)
Acts as a picture-matching guide to aid in identifying parasites of domestic animals
Provides a practical, useful resource for learning the techniques used in diagnosing parasites
Offers a new chapter on immunologic and molecular diagnosis, as well as new images and new sections throughout
Redesigned for easier access to information, with a colorful page design and tabs identifying individual sections
Prepared under the auspices of the American Association of Veterinary Parasitologists (AAVP)
Includes a companion website offering the images from the book electronically at www.wiley.com/go/zajac