Veterinary Infection Prevention and Control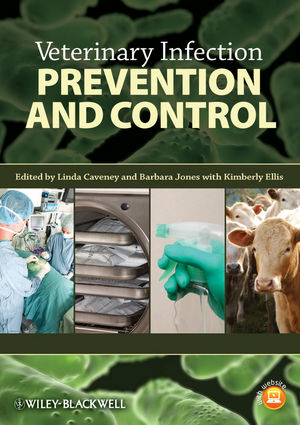 Veterinary Infection Prevention and Control
ISBN: 978-0-813-81534-3 November 2011 Wiley-Blackwell 298 Pages
Description
Veterinary Infection Prevention and Control is a practical guide to infection surveillance and control in the veterinary setting. Outlining the steps for designing and implementing an infection control plan, the book offers information on both nosocomial infections and zoonotic diseases to aid the veterinary team in ensuring that veterinary practices and hospitals are safe for both the animal patients and their human caregivers. Veterinary Infection Prevention and Control provides guidelines to creating standard operating procedures for effective and efficient infection control in any veterinary practice.

With background information on pathogens, bacteria, and disease transmission, the book focuses on specific infection prevention strategies, including disinfection, sterilization, and isolation.  A companion website provides review questions and the figures from the book in PowerPoint. Veterinary Infection Prevention and Control gives practicing veterinarians, technicians, and practice managers in both small and large animal facilities the tools they need to successfully develop an infection-control program.
Contributors
vii
Foreword ix
Acknowledgments xi
Introduction xiii
1 What Is Infection Control and Biosecurity? 3
2 Microbiology Review 21
3 "Links in the Chain" of Disease Transmission 41
4 Zoonotic Diseases 63
5 Disease Prevention Strategies 85
6 Guidelines for Effective Cleaning and Disinfection 107
7 Chemical Disinfectants 129
8 "Best Practice" Procedures Prior to Sterilization of Medical Equipment 145
9 Packaging, Preparation for Sterilization, and Sterile Storage of Medical Equipment 159
10 High-Temperature Sterilization 181
11 Low-Temperature Sterilization 201
12 Processing of Complex Medical Equipment and Specialty Processing 213
13 Surgical Textiles, Linens, and Laundry 237
14 Infection Control: The Surgical Environment and Ancillary Areas 245
Appendix A Medical Term Reference Information 273
Appendix B Common Concentrate Dilutions 277
Appendix C Table of Disease Transmission and Disinfection Guidelines 279
Appendix D Donning and Removal of a Surgical Gown 287
Index 289
This book has a companion website providing review questions and answers, figures from the book, and additional resources online at www.wiley.com/go/caveney.
"This book provides thorough but simple guidelines on all aspects of this "vital" topic, for whatever type of practice you are working in: small or large animal, general practice or specialised referral hospital."  (Vet Nurses Today, 1 April 2012)
"Overall, this unique book is a valuable resource for anyone in the veterinary field and animal agriculture industry, as well as any animal caregiver. It provides information about the transmission, spread, and control of infectious veterinary diseases, and guides the development and execution of infectious disease control protocols."  (Doody's, 6 April 2012)